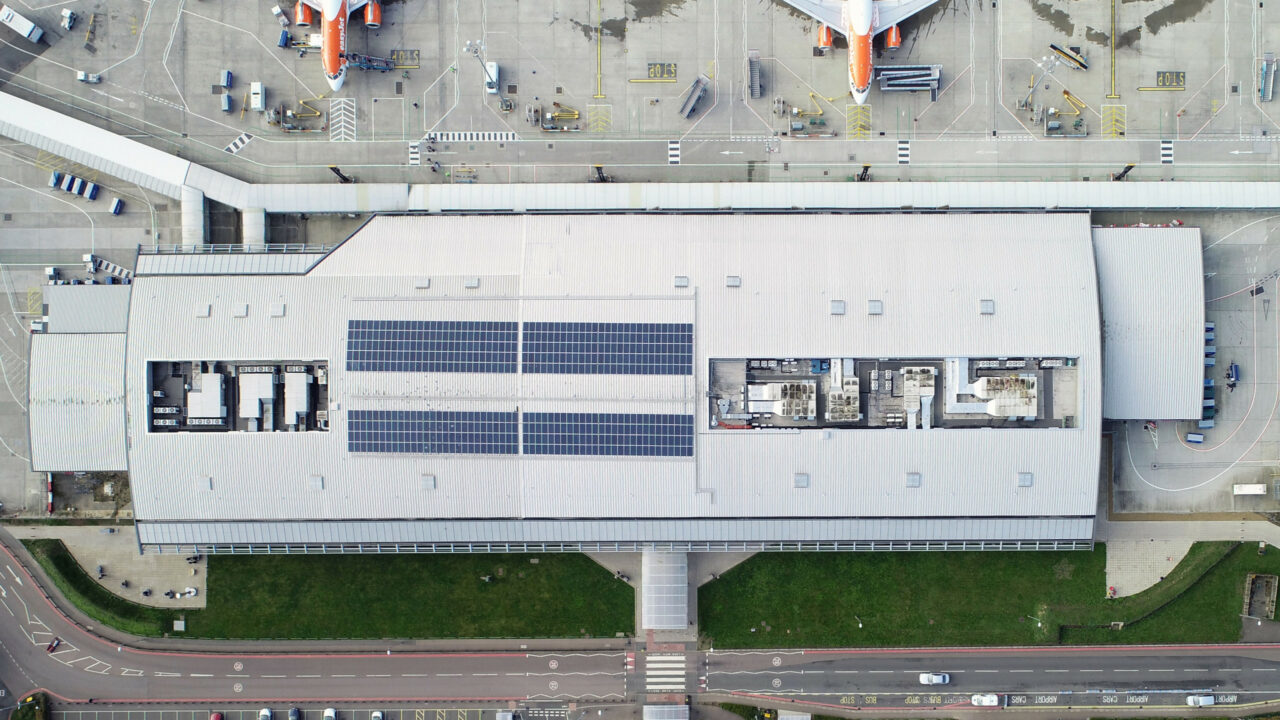 London Southend Airport has confirmed that 25% of the total energy consumed across its site between 2021 and 2022, came from on-site solar, including a 9,500-panel solar farm.
Solar has become one of the biggest sources of self-generated renewable energy for the site, helping it reduce its carbon footprint.
The 9,500 panel solar farm had been officially registered with Ofgem in 2015 and generated 1,875,218kWh between 2021 and 2022. The solar farm is connected to the airport's electrical ring main, supplying approximately 18% of the airport's annual electricity requirements with the capability for limited power being exported to the national grid, the airport said.
You're looking at #London SouthendAirport's dedicated solar farm, made up of 9,500 solar panels – we're producing more than 25% of our own electricity from renewable sources ????

For more info on our efforts to reduce our carbon footprint, click below ????https://t.co/IIDSEX7ZhS pic.twitter.com/HLzdsUBBpU

— London Southend Airport (@SouthendAirport) December 7, 2022
Running alongside the solar farm is a total of 496 rooftop solar panels that were installed in 2014 by PV installer Photon Energy. At the time this was the UK's largest airport PV array, supplied by Conergy to fit on the airport's curved tunnel-shaped roofs.
The rooftop solar panels were installed to power the terminal's constructed shops, cafes and restaurants through the airport's private electricity network. The project cost a total of £10 million.
A number of airports have been exploring the use of solar as a means to supply renewable energy throughout the buildings and operations. In late August, London Stansted received planning permission for the development of a 14.3MW solar farm that would sit on land immediately to the east of the airport.
The solar farm will produce renewable energy to help meet the airport's current and increasing electricity demands as it races towards net zero by no later than 2038. The development will include new trees planted, hedgerows reinstated and new hedgerows introduced.
AMPYR Solar Europe (ASE) also signed a deal with Edinburgh Airport earlier this year to develop a 9MW solar farm linked with battery storage and electric vehicle (EV) charging infrastructure.
The ground-mounted solar PV system and 1.5MW battery storage system will be situated next to the runway at the airport on a 16-acre plot of land. It is to be connected to the airport via a high voltage private wire network. The project is also to see the installation of 40 EV charging points.
A 15MW solar farm is to be developed for Glasgow Airport, with the intention of it being operational by summer 2023. Subject to planning approval, the solar farm will give Glasgow Airport the capacity to generate enough power for the airport campus and neighbouring businesses.