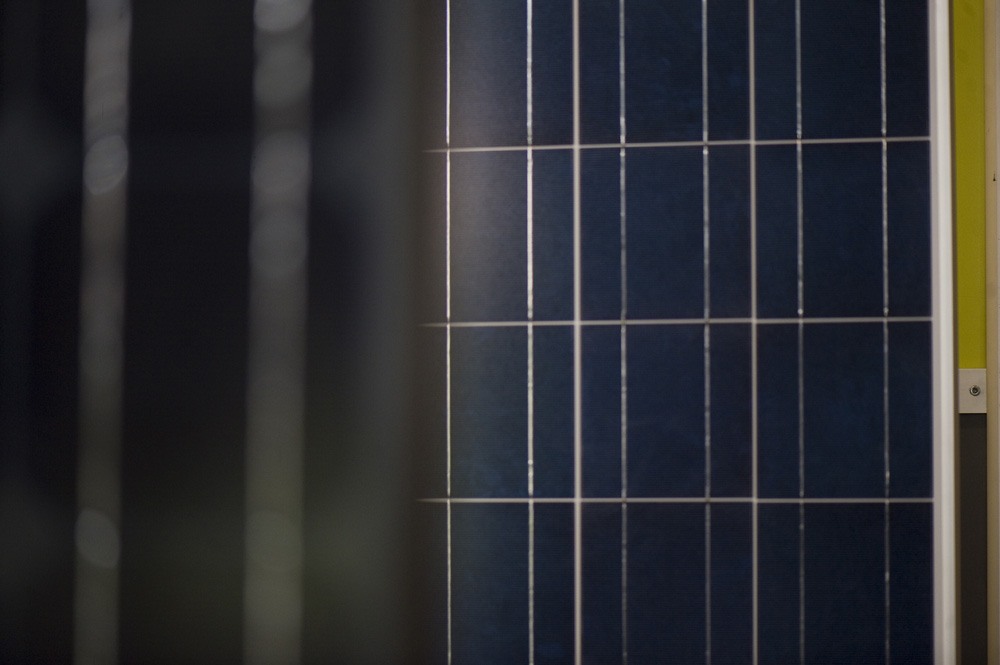 The 365MW solar portfolio owned by SunEdison yieldco TerraForm Power has been sold to Vortex, a European renewables investment platform of private equity firm EFG Hermes.
The portfolio, understood to be the largest single portfolio of assets available on the UK's secondary market, comprises 24 operational solar farms developed under the Renewables Obligation scheme. The sites also benefit from 14-year power purchase agreements.
Bloomberg reported in August 2016 that TerraForm Power was seeking to dispose of its UK assets via an auction, with five companies entering a second round of bidding at the time. Solar Power Portal understands that this was subsequently narrowed down to two contenders before a winner emerged towards the end of last year.
EFG Hermes has emerged victorious from the tender process, paying circa £470 million for the sought-after portfolio.
Karim Awad, group CEO at EFG Hermes, said the "landmark acquisition" would turn Vortex from a "newcomer" to the market into a platform managing more than 800MW of renewables assets across the UK, France, Spain, Belgium and Portugal.
"The transaction is also an example of our group's announced merchant banking strategy of effectively utilising our balance sheet to support our core businesses and enhance shareholder returns," he added.
The portfolio currently carries a finance debt facility of around £300 million, however Vortex intends to refinance this shortly after completing the transaction.
Meanwhile half of the equity share capital of the transaction has been sourced from Asian finance with Tenaga Nasional Berhad (TNB) subscribing into Vortex for that amount. The remaining half will be initially underwritten by EFG Hermes, however the group has a final targeted hold of just 5% of the equity. TNB confirmed in a separate statement that it paid a total cash consideration of £86 million for the stake.
UK solar company Lightsource has been brought into the deal as a technical partner and will provide O&M services for the portfolio.
Lightsource chief Nick Boyle said the firm was delighted to secure the deal, adding: "At Lightsource we are very proud of the in-house knowledge and expertise that we have developed over the last five years, which allows us to provide a gold-standard service in operations and maintenance to third party clients and thus help us secure such quality business."
EFG Hermes also hinted that it was still on the hunt for further UK assets. Karim Moussa, the firm's head of private equity, labelled the UK a "key contributor" to the European solar market and said it would "continue adding significant renewables capacities to Vortex through future acquisitions".
Advisors on the deal included the likes of Watson Farley and Williams, Davis Polk, Shearman & Sterling, Deloitte, Enertis, Willis, Baringa, Operis and Global Capital Finance.
Since SunEdison's bankruptcy last year there has been much speculation over the future of both the company and its yieldcos, which house a significant amount of generation assets across the world.
In September last year TerraForm Power confirmed that discussions regarding the sale or merger of its business were underway, triggering a race to acquire a highly sought-after portfolio of UK assets.
However UK assets developed by SunEdison have not always fared well post-transaction. In March last year Foresight Solar Fund, among the largest holders of UK solar assets, announced that it was settling a compensation claim with the developer over the underperformance of three sites it acquired.
The complete list of assets acquired by EFG Hermes is below:
Crucis Farm, Gloucestershire (16.1MW)
Brook Farm, Oxfordshire (8.9MW)
Says Court, Bristol (19.8MW)
Fareham, Hampshire (20.5MW)
Westwood, Kent (9.2MW)
Knowlton, Kent (11.5MW)
Fairwinds, Essex (12.2MW)
Exning, Cambridgeshire (30.3MW)
Manston, Kent (9.8MW)
Langunnett, Cornwall (6.2MW)
West Farm, Pembrokeshire (7.6MW)
Crundale, Pembrokeshire (43.7MW)
Bury Lane, Cambridgeshire (22.2MW)
Hill Farm, Newport (7.7MW)
Prestop Park Farm, Leicestershire (15.9MW)
Epwell Grounds, Oxfordshire (9MW)
Brynteg, Carmarthenshire (14.8MW)
Wrockwardine, Shropshire (10.5MW)
Horam, East Sussex (8.1MW)
Castle Combe, Chippenham (15.3MW)
Hill House Farm, Gloucestershire (28.3MW)
Little Neath, Pembrokeshire (6.1MW)
Burthy Solar Farm, Cornwall (13.1MW)
Sundorne Grove, Shropshire (18.2MW)