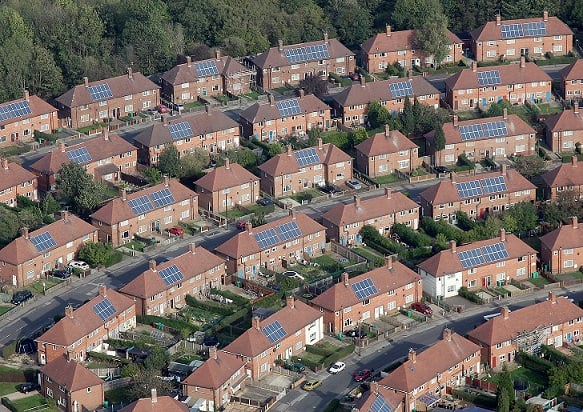 Around half of local authorities have higher building standards than national requirements, the Solar Trade Association (STA) has found.
Data from Freedom of Information requests submitted by the STA found that 51% of local authorities have higher standards and 17% have 'leading' policies in terms of ambition, scope and integration of renewables.
In particular, Milton Keynes was lauded as a leader, with an Energy and Climate Statement that requires developers to set out how they will how they will achieve a 19% reduction as required under national planning policy, as well as provide on-site renewable generation or a connection to a renewable or low carbon community energy scheme that contributes to a 20% reduction in residual carbon emissions.
Other frequent policies were stipulating for the requirement for a 19% reduction in CO2 from 2013 Part L Building Regulations and a 10% energy demand reduction from low carbon technology, as well as a 10% energy demand reduction to be met by low carbon sources in non-domestic buildings.
Two local authorities included a requirement for energy storage and four included mentions of electric vehicles or charge points in relation to new-build policies.
Chris Hewett, chief executive of the STA, said its members are installing more rooftop solar in areas "where local authorities are taking climate change more seriously".
"The regulation of building standards is a particularly important area in which local administrations have powers to determine higher, more stringent requirements than those set out at national level and can act to improve said standards without financial constraint," he added.
The government last week released a consultation on its Future Homes Standard, the mechanism to improve the energy efficiency of new UK housing.
One option – to improve fabric standards – would result in a 20% reduction in carbon emissions, whereas the other, which the government said was its preferred option, would see a 31% reduction through fabric standards and renewable technologies such as solar PV.
However, Polly Billington, director of UK100, however, warned that the Future Homes Standard could limit local authorities from setting higher standards.
"The government is proposing to limit the ability of local authorities to help the UK meet its net zero target by setting national standards as a ceiling when they should be a floor.
"The fact that more than 50% of local authorities already exceed national standards demonstrates the ambition of local leaders, which should be supported by national government," Billington continued.
Local authorities are able to set energy efficiency standards that exceed current building regulations and for proportions of energy use in the development to come from low carbon or renewable sources, however this can only be up to the equivalent of Level 4 of the Code for Sustainable Homes.
However, the STA also found that a significant number of local authorities have policies that are outdate or slow to come into effect, citing an example of Basildon Council starting work on a new local plan in 2014 that is still under review, having been submitted to the Secretary of State in March 2019.
The STA also saw references to the Zero Carbon Homes policy, a similar policy to the Future Homes Standard which was scrapped in 2015, in both local plans and responses to its requests.
Solar Power Portal has contacted the Ministry of Housing, Communities and Local Authorities for comment but at the time of publication has not received a response.