In the UK, the pipeline of utility-scale battery storage projects has now reached over 20GW across 800 projects. This has been bolstered by a recent surge of applications being submitted, with a record Q2'21 that saw the pipeline jump from almost 17GW of total capacity to over 20GW. As such, the next few years could show a major increase in energy storage deployment.
The graphic below shows the planned capacity by project size by quarter for battery storage projects in the UK.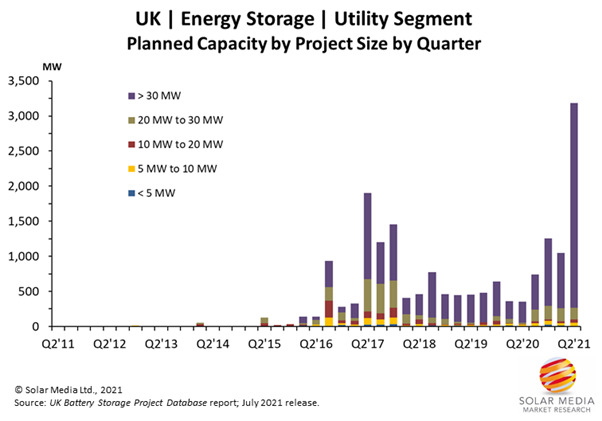 Activity in the energy storage market started mainly during 2015 and was followed by a surge of applications in 2017. For the next few years, submitted capacity levelled out, but 2021 has seen a much higher peak in submitted capacity so far.
While the pipeline contains a mix of project sizes, the capacity is becoming increasingly dominated by large-scale projects, due to the lift of the 50MW threshold. Many applications have been submitted this year for sites larger than 30MW in capacity.
A spike can be seen during Q2'17 as developers submitted applications after seeing how successful other projects were in the 2016 EFR auction. The recent surge in applications during Q2'21 has been driven by the successful approval of previous applications and simply because average project size is becoming much larger.
The total submitted capacity back in Q2'17, the largest quarterly submitted capacity till now, was 1.2GW across 82 sites where 49% of these applications were for sites larger than 30MW.
The total submitted capacity for Q2'21 is at 3.2GW across 59 sites, making this the largest quarterly submitted capacity so far. 92% of the applications submitted during this period were for sites larger than 30MW. During this period, there has even been a pre-application submitted for a site in Lanarkshire, Scotland with capacity of 500MW.
The graphic above shows the planned capacity by co-location by year, where the pipeline is dominated by large, stand-alone sites. Since stand-alone projects are becoming larger in capacity size, this means that the energy storage market is becoming increasingly dominated by stand-alone sites; 82% of the total planned capacity is from stand-alone.
Typically, project size depends on the type of project being developed; stand-alone sites are usually of large capacity whereas co-located projects tend to be much smaller. While a broad mix of project sizes has been deployed, operational capacity is expected to increase rapidly in the next few years due to the growing pipeline.
Many developers are now submitting applications for new-build wind and solar farms co-located with battery storage. Since these projects are usually smaller in size, the market will continue to be driven by large capacity, stand-alone sites.
The total submitted capacity for 2017 was 4.9GW, the highest yearly submitted capacity so far. For 2021, the submitted capacity is currently at 4.7GW. Very soon, 2021 will reach record-breaking status for submitted energy storage capacity in the UK by calendar year.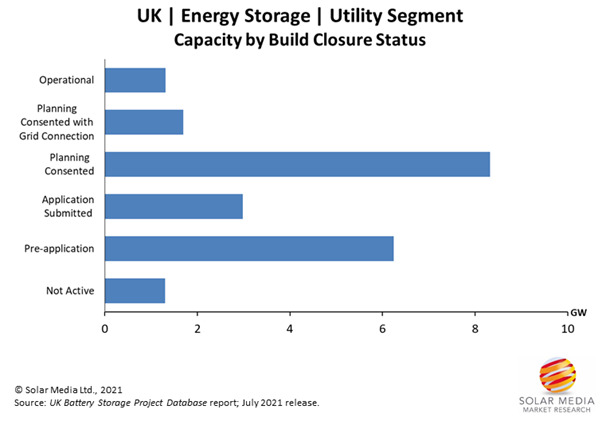 The pipeline for energy storage has increased much faster than deployment levels, with over 20GW of planned capacity and 1.3GW of operational capacity. Just over 1GW is not active in the pipeline, meaning the applications have been refused or the developer is no longer going ahead with construction; however, these sites still have the potential for future deployment.
More than 6GW is at the pre-application stage of planning; i.e. screening/scoping requests, and awaiting full applications to be submitted. Around 3GW is for submitted applications but still awaiting decisions. 8.5GW of capacity have been approved in planning but have not been awarded grid connection contracts and almost 2GW has been approved with grid connections.
The pipeline for energy storage has increased significantly this year and activity in the market is becoming very active. We are likely to see deployment rates rise over the next few years as sites within the 800-plus of projects are installed.
All projects are captured and fully audited in the UK Battery Storage Project Database report. To access this information – updated monthly – please contact us via the report landing page here.
This article originally appeared on our sister site, Energy Storage News.