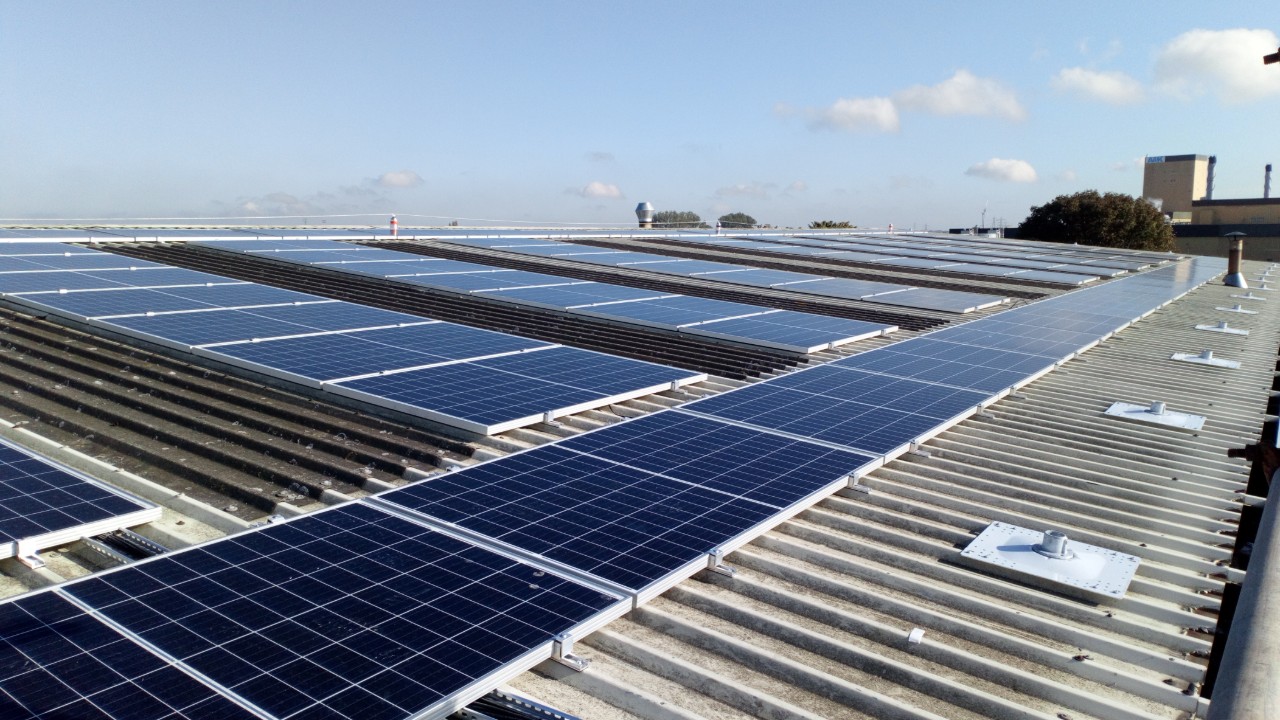 The Associated British Ports (ABP) has announced a £6.8 million solar project, that will see the largest roof mounted solar array in the Humber constructed on the Port of Hull it says.
It will have a capacity of 6.5MW, more than doubling the existing solar capacity of the Humber ports. Currently, the ports of Immingham and Goole produce 4.5 MW and 1.1 MW respectively.
The addition of the solar scheme in Hull, will allow the ports to produce 29% of their energy requirements.
Simon Bird, director of ABP Humber said: "This solar installation is another vital step toward making our energy supply even more sustainable and even greener. It will make more use of the hybridised port equipment we have invested in to carry out port operations.
"I'm excited to see where this green energy revolution can take us as a port operator, as we look to decarbonise further our own operations and, in turn, those of our customers and the wider supply chain."
The panels are being installed by Custom Solar, and will cover the port's warehouses and engineering workshop. As each warehouse is completed it is being switched on, with the final one expected in July.
When completed, it will mean 17 of ABP's 21 ports will have renewable energy projects attached. In 2018, 12.2% of the company's electricity came from these renewable sources, and more projects came online last year.
The Port of Hull project, which took two years of planning, will save 2,600 tonnes of CO2e per annum the ABP has said. When they are decommissioned, both the panels and the fittings are 100% recyclable.
Matthew Brailsford, managing director at Custom Solar said they were "delighted to be installing another iconic solar project on the Humber".
"We are extremely proud to be installing one of the UK's largest rooftop solar system and we very much look forward to unveiling the completed system in 2020 once all aspects have been safely installed and commissioned."
In 2017, Custom Solar won a tender from the ABP to help rollout solar projects across three years. ABP is aiming to be one of the largest corporate solar power producers in the UK, and has set its sights on adding 20MW of PV, ensuring all of the ports it operates have solar installations.
The Port of Silloth was officially opened in 2018 as part of this scheme, with a 250kWp solar farm on Marshall Dock feeding it. The Port of Goole was completed in 2019, and has more than 4,000 roof mounted panels.
The ABP started its solar transition even before its agreement with Custom Solar, opening a 4.5MW solar farm at the Port of Barry in South Wales in 2015.