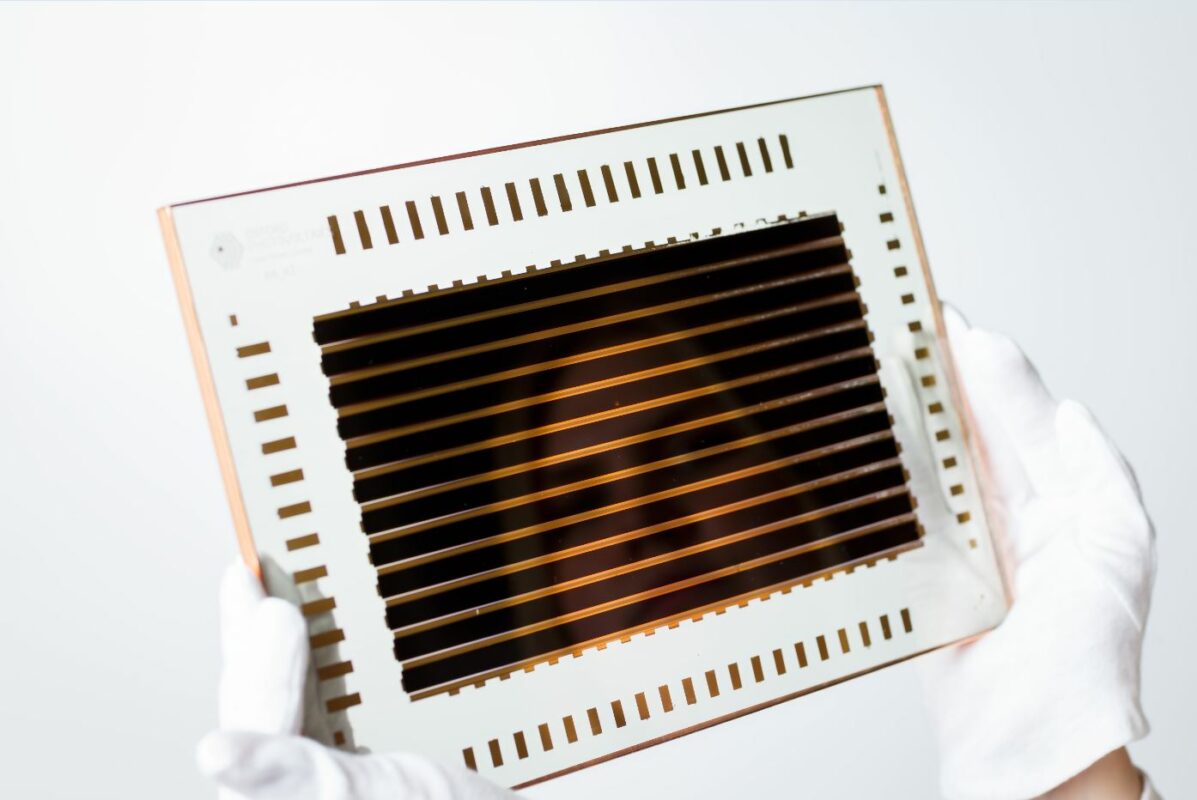 Solar in the UK continues to be a huge discussion point for the energy sector. Although barriers in its development and several bottlenecks still remain, particularly in policy, it is clear the solar industry is collectively pulling in the right direction.
One company that continues to spur growth not only in the UK but on a global scale is Oxford PV – a spin-off from the world-renowned University of Oxford dedicated to perovskite solar cells.
Innovation remains at the heart of the company. As covered by Solar Power Portal, the firm recently set a 'new world record' for the efficiency of a commercial-sized solar cell with a conversion rate of 28.6%.
The organisation stated that "the combined 'perovskite-on-silicon' tandem solar cell achieves a conversion efficiency that is substantially higher than that of mainstream silicon-only solar cells, which average 22–24%".
To find out more about the company's record-breaking technology and its future growth plans, Solar Power Portal spoke with Dr Chris Case, chief technology officer (CTO) at Oxford PV.
The company has achieved significant success in the solar market and is planning on expanding its presence via the introduction of a new factory to support its lofty goals. Despite recent reports that Oxford PV deems the UK market as the "least attractive" location, Case is quick to dispel this.
"We are seeking to build new factories and we have not made a decision on the location of the factory. Between the US, UK and Europe, all options are open. The UK is interesting as it's our home, it's in our backyard and there's a lot of need for renewables," Case tells Solar Power Portal.
"Europe is also backing the expansion of renewables with their targets for net zero and the US has a tonne of incentives in the Inflation Reduction Act (IRA). All things are on the table at the moment."
Oxford PV of course are by no means newcomers to expanding its presence abroad, having established a solar manufacturing facility in Germany in 2021. Full line production started in 2022, according to the company.
The site, located in Brandenburg an der Havel, just to the southwest of the capital, Berlin, has a target to attain a manufacturing capacity of around 100MW annually. This does not mean that Oxford PV does not have a presence in the UK, in fact, its research and development (R&D) facility is located in Oxford, UK.
But the question still remains as to why Oxford PV chose Germany for its manufacturing facility.
"We looked throughout Europe, including in the UK, and in continental Europe, with the goal to find a site has to be brownfield, inexpensive, easy to take over, have the right kind of infrastructure, and we were also concerned about staff such as engineers and operators," Case says.
"We also wanted incentives if possible. Germany, to a certain extent, was an easy decision because they had former staff from the solar days. There wasn't a concern about engineering competency, even though they shut down German solar operations, the staff was still there – they just spread out to different industries."
Another point to add about the company is that there is a slight buffer zone between the technologies being explored in the R&D facility and the manufacturing plant in Germany. Commenting on this, Case says: "It takes us roughly three years to transition and actually prove the reliability and scalability of whatever we do in our UK facility from an R&D standpoint, into the German factory.
"The solar cell that we're making in Germany today, actually is a device that was demonstrated in the UK three years ago."
As a result of this, the "world-record" efficiency that had been discussed on Solar Power Portal recently will take time to transition through the R&D facility and into fully fledged production. But with that in mind it is curious to understand what the company is now striving to achieve in regard to solar cell efficiency.
Although it is not suggested what percentage its current batch of solar cells are working at, Case does tease that they are "higher than 27%". The goal now is to increase this efficiency in the coming years.
"Our roadmap boosts our efficiency by roughly 1% per year, maybe a little less than that. But that number doesn't go on forever because you're going to hit these three theoretical limits at some point," Case says.
"As we hit 33, 34 and 35%, our targets are somewhere between 0.5 and 1% per year, and then our customers should be thrilled because there'll be another generation that is able to get more energy in a limited space."