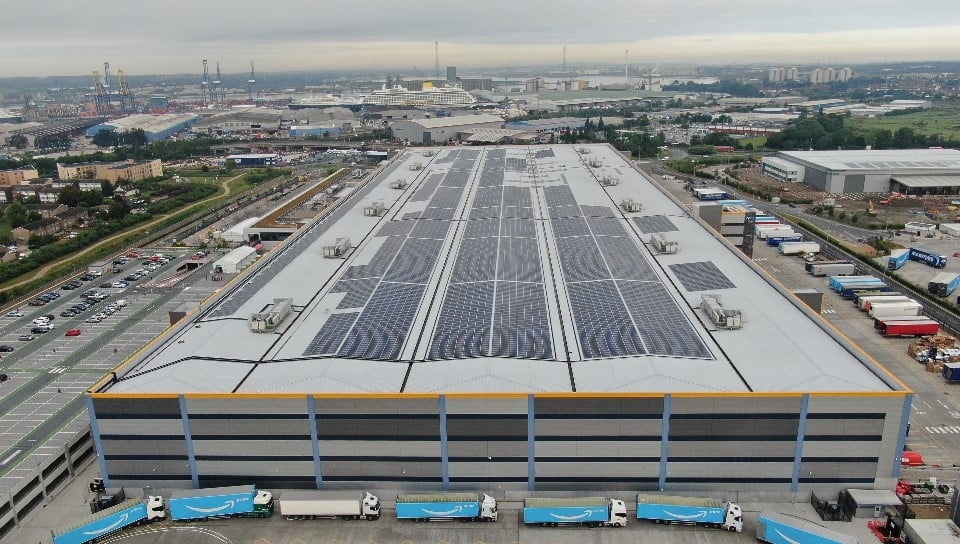 A 3.4MW solar system has been installed at Amazon's fulfilment centre in Tilbury in its latest move towards a 2040 net zero.
It is the largest rooftop installation of any Amazon site in Europe, with 11,500 module solar panels installed across a site containing 2 million sq. ft. of operating space.
The company outlined its plans to install 20MW of rooftop solar at its fulfilment sites in 2018, with the installations intended to take place over the following eighteen months. It is planning to be powered by 100% renewable energy by 2025, resulting in the company having over 90 renewable energy projects worldwide. This includes 31 utility-scale solar and wind projects and 60 solar rootops on fufilment and sorting centres.
Brittany Stanton, senior energy programme manager at Amazon, said the company will continue to invest in "large on-site solar installations" like the one in Tilbury to help meet these targets, as well as "large off-site renewable energy, wind and solar projects where the power goes into our local utility grids".
As part of its sustainability goals, Amazon is also planning to add 1,800 electric vehicles to its delivery fleet in Europe and has partnered the We Mean Business coalition to establish what it said is the "largest effort to mobilise the private sector to reach net zero carbon by 2040".