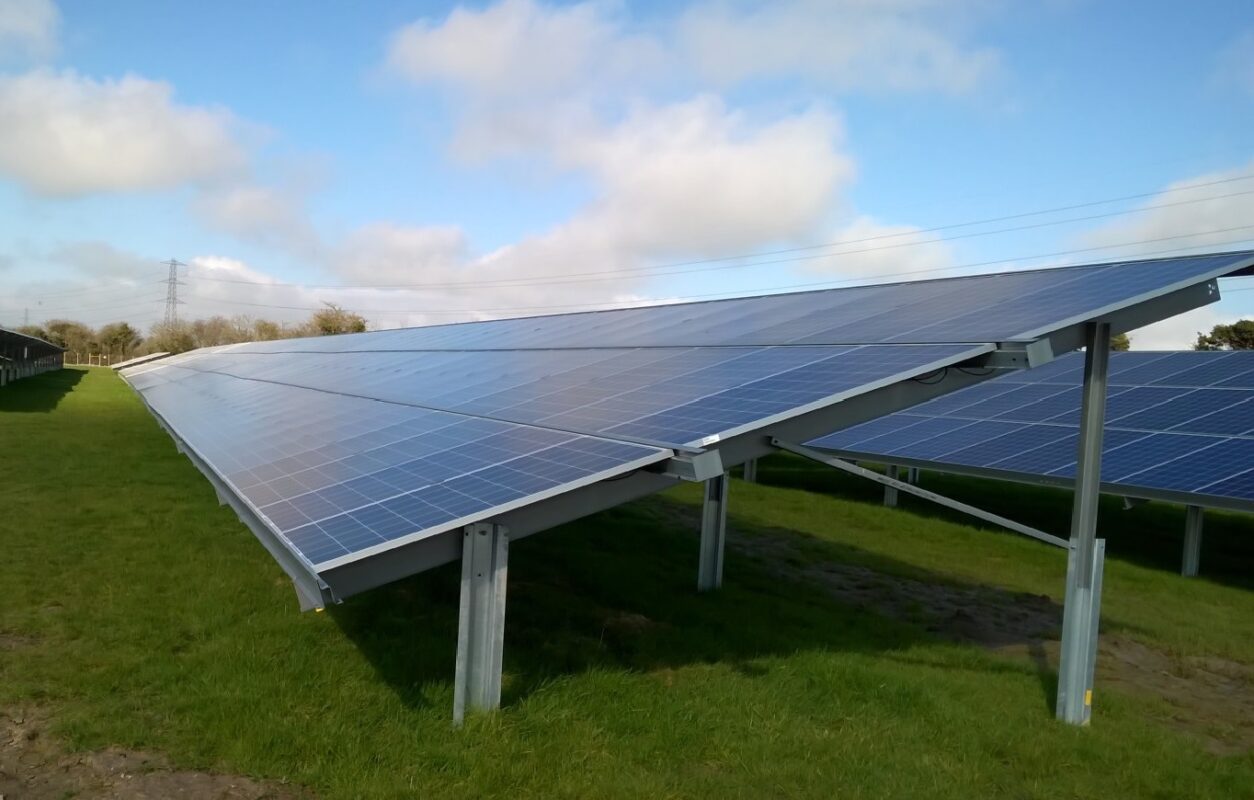 Anesco has submitted a planning application for a 19.657MW Solar Farm in Amber Valley, Derbyshire.
The site would have 36,720 ground-mount solar panels arranged along a racking system with a maximum height of 2.5m, at a fixed tilt of 15 degrees. The angle is specific to the site and based upon the topography and latitude, with the panels – which have a non-reflective material to ensure there is no glare – to face south.
Panels will be laid out in east-west rows, with approximately 4-5.5m between each row across 37.902 hectares. The site will be configured with string inverters that can sit discretely on the rear of the ground mount frames.
Anesco said the site will include the erection of a small substation, a DNO control room, a customer substation, GRP comms cabin, security fencing, landscaping and other associated infrastructure.
The site would sit on the land – which comprises agricultural fields which are currently in arable use – for a period of 40 years, at which time it will be returned to its current state.
Speaking to Solar Power Portal, Sarah Hitchcox, development and technical director at Anesco said the site was in an ideal location because it is "situated outside of sensitive designations, adjacent to an industrial estate and sewage treatment works on lower grade agricultural land".
"The project is expected to power approximately 5,500 homes, saving around 5,000 tonnes of CO2 emissions per year."
There are two other solar sites currently pending determination on land around the site; a 25MW solar farm at Upper Delves Farm and a 50MW solar farm have been submitted, both from other solar companies.
The application for the Derbyshire site follows Anesco announcing it was gearing up for a "new wave of large-scale solar projects" in March, following the approval of a 50MW solar farm in Lincolnshire from East Lindsey District Council.
In January, the renewable energy developer announced a partnership with Gresham House for the development of 200MW of solar PV projects, with assets set to range from 20MW-50MW.
The British solar developer has a total of 525MW of solar constructed in the UK across 105 sites.
"At Anesco, we're proud to be supporting the UK's transition to net zero and the switch to clean, sustainable energy sources," added Hitchcox.
"Solar and battery storage technologies have an important role to play in that. We now have more than 430MW of new solar and storage projects in planning or at the ready to build stage, with a total pipeline exceeding 2GW."
A decision on the planning application is anticipated on 8 July 2021. Anesco is then planning to complete construction and energise the project either late 2022, or early 2023.