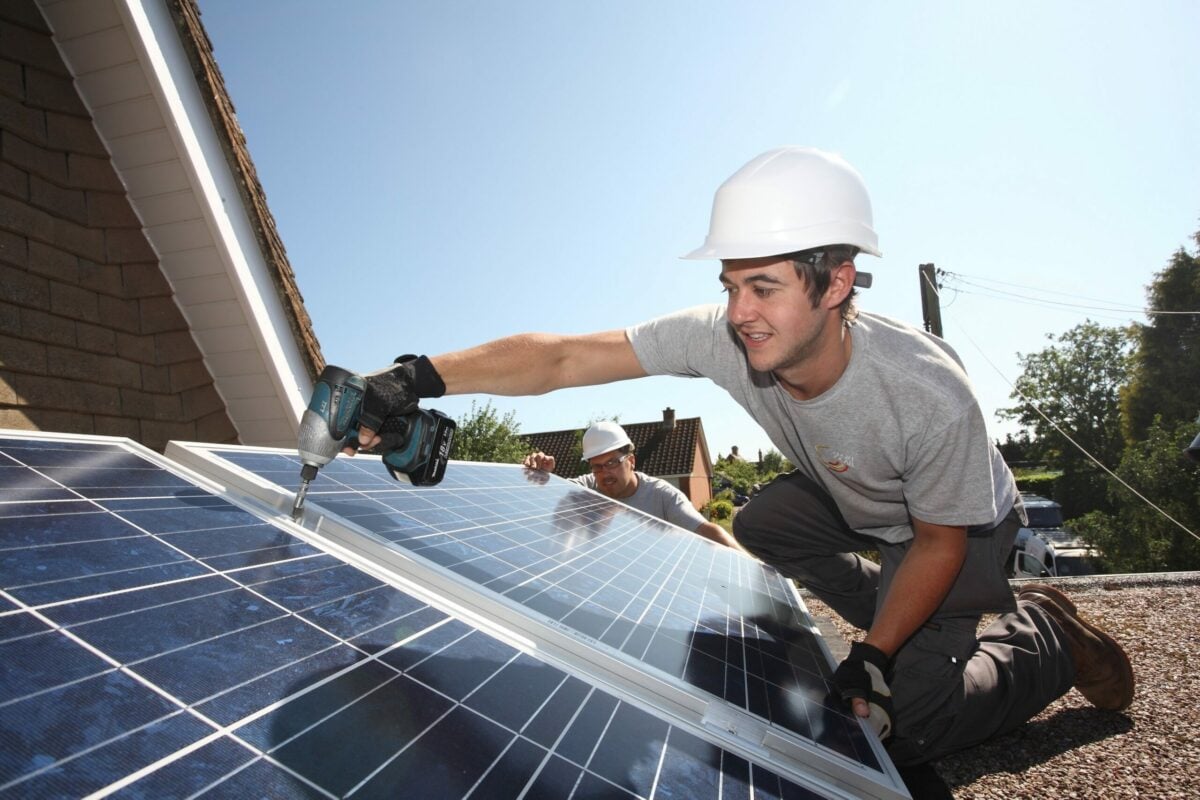 Employment in the UK's domestic solar industry has contracted by approximately one-third in the last year against a backdrop of subsidy cuts and other policy interventions, and further job losses are strongly expected.
That is the conclusion of a joint-survey conducted by consultancy giant PricewaterhouseCoopers and the Solar Trade Association, which estimated that as many as 12,500 jobs have been lost since the first of the new UK government's policy decisions on 22 July 2015.
The 'Seeing through the gloom' report collated 238 responses from companies that employed a total of 5,362 people last year. Those companies now employ a total of 3,665 jobs, constituting a 32% reduction.
When extrapolated across the circa 36,000 jobs the Department of Energy and Climate Change's feed-in tariff impact assessment estimated to be employed in the solar supply chain last year, that contraction produces the report's headline figure.
The vast majority (80%) of jobs in the domestic solar industry were also found to be UK-facing.
The findings defy former energy minister Andrea Leadsom who said before the delegated legislation committee session on the draft Renewables Obligation closure on 2 March:

"


"We are aware that large-scale solar projects are coming forward without subsidy, so it is simply not true to say, as she did, that there are thousands of job losses and that there will be thousands more. There is no evidence for that." – Andrea Leadsom, 2 March 2016.
Leadsom was responding to Labour MP Melanie Onn who referenced job losses already recorded and DECC's own impact assessment on the subject. Onn later requested that speaker of the house John Bercow examine the comments for the government's own record, however the matter was not taken further.
However former secretary of state Amber Rudd was more sympathetic when questioned by Solar Power Portal on the subject of job losses last month.
Rudd insisted her department was "continuing to watch" the solar industry and admitted that the sector was experiencing a "difficult time". Nevertheless, government officials have continually expressed that PV deployment has remained "strong" under the new subsidy regime.
Despite the headline figures of the report make for grim reading, there are some positives to emanate from companies intending to remain in the industry.
While around 31% of companies surveyed said they expected to make additional redundancies over the coming year, half said they expected employment to remain around the same. In addition, one fifth were more upbeat and said they would be looking to hire additional staff.
PwC's findings also provided hints at where the wider renewables industry is going to avoid the downturn. Nearly two-thirds (58%) said they were diversifying their product offering while 42% said they were realising cost savings through areas outside of staff costs. Just over a quarter (26%) said more time was needed before making any strategic decision.
The industry also put forward a number of ways in which it could be supported in the absence of subsidy support. The favoured mechanism proved to be tax breaks for companies deploying renewable technologies, while others suggested the removal of the minimum import price, an adjustment of the current feed-in tariff deployment caps and support for battery storage technologies.
John Dashwood, head of renewables, assurance at PwC, said there had been a "structural shift" in the solar industry over the past year and companies involved in the sector needed to consider "alternative products, services and markets" to survive.
"The solar industry undoubtedly faces some serious challenges, but it has already proved resilient and adaptable," he said.
STA head of external affairs Leonie Greene meanwhile reiterated previous warnings over a potential increase in business rates for solar investors, which could harm the industry even further.
"There are many good economic reasons to back the British solar including minimising the cost of decarbonising our power supply to retain competitiveness, while creating exceptionally large numbers of jobs. Our economy faces a major challenge post Brexit; if we want to prosper in future we must strengthen the UK stake in booming global markets – they don't come bigger than solar," she added.
The Department for Business, Energy and Industrial Strategy had yet to respond to requests for comment at the time of writing.