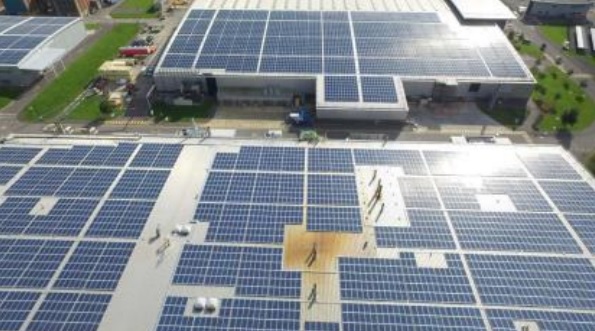 Belectric UK has completed a 3.42MW rooftop install atop Rolls-Royce's manufacturing plant in Bristol, funded through a power purchase agreement.
The install is expected to generate 3GWh of electricity each year, all of which will be used by the engineering giant's defence aerospace manufacturing facility.
Rolls-Royce is also expected to realise "immediate savings" on its energy costs by purchasing the electricity at a discounted rate through the PPA, which will also safeguard it from future energy price increases.
But the project has had to overcome threats to its economic viability after the feed-in tariff was cut between its conception and realisation.
This forced Rolls-Royce, Belectric and the project's financiers Rockfire Capital to balance the project to ensure an acceptable return on investment.
Toddington Harper, chief executive at Belectric UK, said his company were "undeterred" by the government cuts and had worked hard to deliver a commercial rooftop that is independent of subsidy.
"We are delighted with the result we achieved with Rolls-Royce and Rockfire – a commercially viable large-scale solar power plant that is not dependent on subsidy and generates clean electricity and offsets carbon emissions on a meaningful scale. Furthermore, we believe this 'UK first' sets an exciting precedent and path forwards for how we can continue to deliver solar energy in the UK," he said.
Belectric is to operate and maintain the array through an O&M contract with Rolls-Royce.
Tim Sullivan, director of energy and property compliance at Rolls-Royce, revealed that the project would not have gone ahead without the determination of both his company and Belectric.
"This project had many twists and turns during its development. Belectric's development representatives were always highly professional, adaptable and willing to find the right solution for Rolls-Royce," he added.