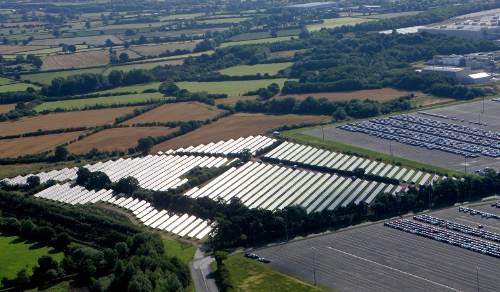 Bluefield Solar Income Fund said "strong operational management" had helped it beat "significantly" lower irradiation levels to deliver on-track earnings in H2 2017.
Yesterday the asset owner reported its results for the six months ended 31 December 2017, declaring that earnings had risen to £13 million.
This was on the back of its operational portfolio of 446.5MW performing nearly 3% better than expected, all against a backdrop of lower than forecast irradiation in the second half of the year.
Bluefield has not been the only asset owner to bemoan lower than expected irradiation in 2017. Last month Foresight Solar revealed it too had witnessed lower sun levels which had impacted on its portfolio's yield.
Bluefield however went one further and chairman John Rennocks described irradiation in the UK last year as "significantly below our expectations". Bluefield's portfolio yield was around 2% below expectation as a result.
The company said it managed to offset this irradiation by ensuring its portfolio was as effective as possible. Its aggregate PR topped 82.4% against a budget of 80.3% with Rennocks heaping praise onto its asset management team.
"This has been possible through strong operational management from Bluefield Services, the company's technical asset manager, who spent approximately 2,700 hours analysing plant performance during the period," he said.
Bluefield also said it had maintained close relations with distribution network operators in order to minimise planned outages and their impacts, particularly in the summer months, and had operated strict control of its contractual agreements, securing some £300,000 of Liquidated Damages in the accounting period.
Attention has also turned to the future of the UK solar market. Bluefield once again said its efforts would be more focused on creating and realising added value from its existing portfolio, typically through extending the life of its assets, securing optionality for battery storage installations and exploring the corporate and direct wire PPA markets.
But one area the company is not expecting to see much activity in is acquisitions. The firm's weighted average cost of capital fell 0.25% owing to additional price pressures in the UK and whilst maintaining a stake in the secondary market, Bluefield is not expecting much movement until asset development restarts.
"Acquisitions must be accretive to NAV, but valuations in the UK market currently remain at a level that does not justify further asset gathering. Sometimes it is better to consolidate and optimise what has already been acquired and we believe now is such a time," Rennocks added.
Solar Media's forthcoming Managing European Solar Assets conference takes place in Barcelona, Spain, on 25 – 26 April 2018. For more information on the event and ticketing/sponsorship enquiries, click here.