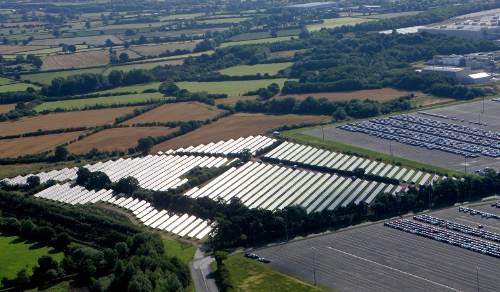 Bluefield Solar Income Fund (BSIF) has confirmed the acquisition of five new build solar farms as the investment group continues to build its 1.2 ROC portfolio.
The sub-5MW projects are being bought for a total consideration of £22.7 million and are all expected to become operational in time for the 31 March 2017 deadline and the closure of the government support scheme.
Three of the projects, located in Essex, Leicestershire and South Wales, are being constructed by Parabel UK. The remaining two – in Staffordshire and Northamptonshire – are currently being built by Solarcentury, which will have sold 17 projects to BSIF totally 166MWp upon completion.
The projects are being acquired using the proceeds of a recent placing of ordinary shares, which raised around £60.6 million for the company.
John Rennocks, chairman of BSIF, said: "Following the placing announced in October, which exceeded our target raise of £50 million, we are capitalising on the forthcoming closure of the RO scheme set for March 2017 by executing the company's primary investment strategy of investing in construction projects.
The UK ground mount solar sector is in a state of frantic activity as developers rush to complete projects in time for the end of March. While BSIF is funding new assets, a number of other large scale investors are working to buy up the secondary market.
Rennocks claimed that Bluefield's strategy avoids much of this competition, which is resulting in lower returns "as increasing competition squeezes prices in a finite pool of assets."
"The company is committed to maintaining its strong pricing and return disciplines by preferring growth in primary markets rather than in the secondary market," he added.
Despite these claims, a number of investments groups are expressing high levels of confidence in the secondary market.
Silverlight Capital Partners recently announced it is raising finance to purchase up to 800MW of operational UK solar assets in expectation that the secondary market will double within the next six months