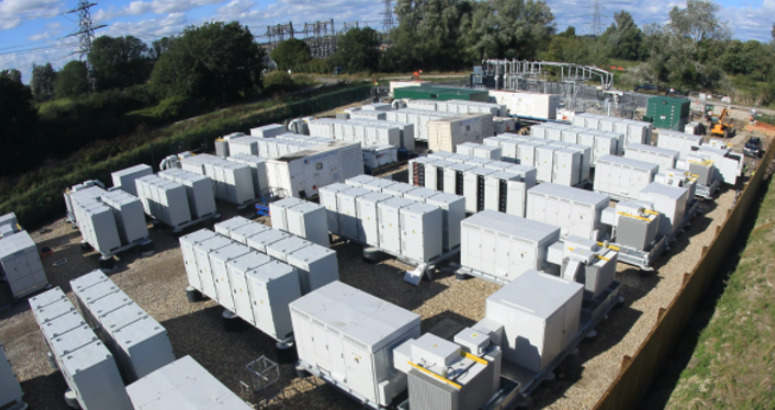 Bluestone Energy has submitted three 69MW battery energy storage system (BESS) project proposals for Scottish Water sites in Renfrewshire.
The proposals, which have been submitted to the Scottish Government, will be situated at Scottish Water's Laighpark Waste Water Treatment Works (WWTW), Stanely Water Treatment Works (WTW) and Linwood Waste Water Pumping Station (WWPS).
Should the applications be successful, each site would gain 20 battery energy storage system units providing a combined capacity of 69MW.
"Rapid deployment of flexible assets such as battery energy storage are essential in Scotland delivering net zero by 2045," said Andy MacPherson, managing director at Bluestone Energy.
"The battery energy storage systems could provide low-cost green electricity to consumers and minimise our demand for imported electricity and gas."
Alongside the battery units, each site will have a control room to allow the operation and maintenance of the system as well as associated electrical infrastructure to facilitate a connection to the local electricity network.
This would enable the decarbonisation of Scottish Water's day-to-day operations whilst also developing flexibility and security of supply for the electricity system.
"We are delighted to be able to work with Bluestone Energy on these exciting projects by facilitating at our three sites in Renfrewshire," said Donald MacBrayne, business development manager of Scottish Water Horizons.
"These projects align with Scottish Water's ambitions to be net zero by 2040 and goes beyond by working in partnership with others to reduce their emissions too. By taking this approach we can all make significant contributions to Scotland's net zero goals."
Bluestone Energy is developing a total of six battery energy storage systems across Scottish Water sites, including Laighpark WWTW, Stanely Water WTW and Linwood WWPS, which have a combined capacity of 403MW.
These projects form part of a joint development agreement with Macquarie Asset Management's Green Investment Group to develop in excess of 2GW of battery energy storage capacity throughout the UK.
Scottish Water has been scaling its solar and BESS projects recently having unveiled what it labelled its 'most ambitious' solar scheme yet in March 2021.
The firm confirmed an installation planned for its Balmore Water Treatment Works in Torrance, East Dunbartonshire that is expected to generate 4GWh per year. With a £3 million investment, the project will see 8,620 ground-mounted PV panels with a capacity of approximately 5MW installed at the energy intensive site.
Scottish Water also stated in February 2022 that battery storage is making renewables more viable following the installation of a flow battery system, capable of storing up to 0.8MWh of energy, at a waste water treatment site that serves the city of Perth.
With this, the company revealed it had been paired with over 2,520 solar panels with a combined output of over 1MW.