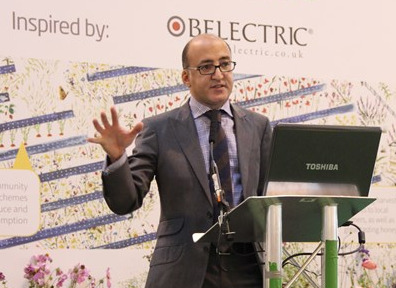 The British Photovoltaic Association (BPVA) has been ordered to pay damages after being found to have breached the terms of a management consultancy contract in October 2014.
The trade association, chairman Reza Shaybani and Rated Solar Installer (RSI) were however cleared of a further verbal contractual breach and copyright infringement at Kingston-upon-Thames County Court on Friday afternoon.
The two-day, multitrack trial was heard last week by district judge Mageur after the claims were brought against the three defendants by Jason Hunter, an independent management consultant who was recruited to work on the BPVA's 'Powering Knowledge' programme.
Hunter had claimed that after initially meeting Shaybani in February 2014, he discussed joining the BPVA to work on the project over the following months. He claimed that following a meeting at the association's London office on 8 July, he agreed a verbal contract in lieu of a more formalised agreement that would be forthcoming. Hunter alleged that financial terms had been discussed, but not agreed at that time.
Shaybani contested this however and claimed that there was no such gentleman's agreement. He instead suggested that Hunter worked on the project of his own accord in an attempt to impress the association.
The court was presented emails from Shaybani to both Hunter and officials from the Department of Energy and Climate Change and the Department of Education on 15 July 2014, introducing Hunter as someone "working for the BPVA" on Powering Knowledge. Hunter was also instructed by Shaybani not to bring business cards from his former employer Capitas Finance to a future meeting, and informed that business cards for his BPVA role were to be printed.
Work under the project progressed and in early September a formal agreement was struck and a management contract signed. The contract, back-dated to start as of 1 September 2014, was fixed-term for four months to 31 December and included an agreed scope of services and payment terms.
The relationship between the parties deteriorated in early October when Hunter did not receive payments due under the management contract. The contract stipulated that Hunter's salary was to be paid in two instalments due on both the first and last day of the month. While Hunter received an initial payment on 24 September, he received no further payments from the BPVA for his work.
Shaybani claimed that this was down to the organisation having grown unimpressed with Hunter's work and that certain tasks had gone unfulfilled, eventually resulting in notice of a contractual breach being presented to Hunter on 3 October.
Hunter counter-claimed that he was only informed of the alleged outstanding work on 3 October in both a telephone conversation and via email, work which was agreed to be completed by the following Friday (10 October 2014).
Hunter alleged that in withholding payments due on 30 September and 1 October the BPVA had breached the written contract. When Shaybani suggested via email an alternative payment schedule alongside a timeline for specific tasks to be completed, Hunter rejected it so as not to affirm the perceived contractual breach.
Further emails exchanged between the two and heard by the court demonstrated the break down of the relationship, which ultimately culminated in the contract's termination on 7 October.
It was further alleged that when pressed on the matter of payment on the day following the contract's termination, Shaybani warned Hunter that if he continued to press for payment, he would "never work in the solar industry again". While this claim was not substantiated and dismissed as "complete fantasy" by the defendant's counsel David Nuttall of St Ives Chamber, Judge Mageur concluded that she preferred the evidence of Jason Hunter in this case.
The telephone exchange was followed by an email, presented to the court, within which Shaybani warned Hunter "not to burn his bridges with the BPVA and the solar industry".
Presiding over the case, Judge Mageur considered that the BPVA was in "clear breach" of the written contract by withholding payment and noted that Shaybani had even indicated this in court, confirming he had done so in an attempt to pressure Hunter into completing additional work.
The BPVA was however cleared of a breach of verbal contract after Judge Mageur said that it could not be concluded that the entire basis of an agreement had been reached between the two parties.
A third claim, alleging Shaybani, BPVA and RSI infringed upon Hunter's intellectual property by reproducing content originally included in a confidential information memorandum, was also dismissed by Judge Mageur, who cited a lack of evidence to substantiate the claims.
Delivering her verdict, Judge Mageur considered Shaybani to be an "ultimately honest, but evasive and passive aggressive" witness in court.
Hunter was awarded total damages for the breach of written contract claim of £10,500 plus VAT and interest, payable within 21 days.
The BPVA, Shaybani and Rated Solar Installer must also pay their own costs as well as 50% of Jason Hunter's.
Speaking after the case, Hunter said: "I feel completely vindicated and am delighted that I am finally going to be paid by the BPVA for the work I did for them back in 2014. The Judge said that I did everything right under the contract I had and that the BPVA had no right to withhold payments to me and found that they were in breach of the contract that Mr Shaybani signed on their behalf."
Mr Shaybani said: "It is unfortunate that a difference of opinion has led to ongoing litigation, but we are pleased that this has been resolved by the decision of a third party judge. We wish Mr Hunter well in the future in whatever role he undertakes next."
This story has been amended from its original version to include commentary supplied by Mr Shaybani.