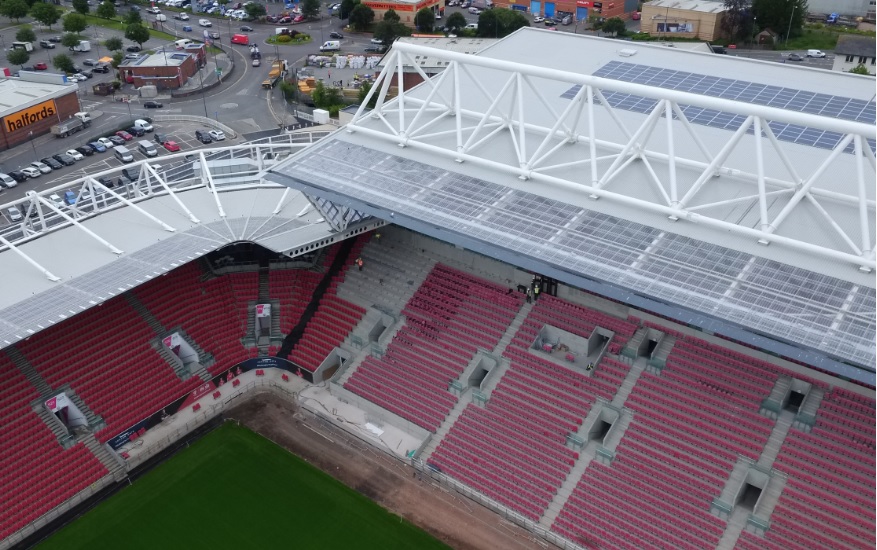 Bristol Sport is set to benefit from significant savings on its energy bills after completing a deal with Bristol City Council to purchase energy generated from new solar panels installed on the West stand of the Ashton Gate Stadium.
The partnership has seen the council fund the new 117kW solar installation as part of the stadium's refurbishment which will produce clean energy to be sold to Bristol Sport at a reduced rate for use on site. In exchange, the council will gain revenue from supplying the power, alongside an income from the feed-in tariff for generating the electricity.
This model is expected to deliver savings of £150,000 over the 20 year scheme – or £7,500 annually – on the stadium's energy bills, cutting carbon emissions by 20% in the process. In addition, the council will recoup the cost of the system and make a small surplus before passing ownership of the system to the stadium owners after 20 years.
Helen Holland, cabinet member for place with responsibility for energy, said: "One of the Mayor's campaign promises was to put Bristol on course to run entirely on clean energy by 2050. The City Council can't achieve this by ourselves, so working with partners like Bristol Sport is going to be essential if we're going to hit our goal.
"Ashton Gate is such an important venue for football and rugby fans in Bristol. Working with Bristol Sport during their amazing transformation of the stadium sends a really strong message that it makes commercial sense for high energy consuming businesses to install renewables onsite, and Bristol City Council can help with that."
The installation was carried out by EvoEnergy and is expected to generate around 95 MWh per year. Due to the stadium's size and activities, all of the electricity generated from the rooftop system is expected to be used on site.
James Sutton, commercial project manager at EvoEnergy, said: "We're pleased to be supporting Bristol City Council's campaign to encourage more businesses to choose solar, with the installation of a 460-panel system at Ashton Gate. It's a great example of how partnerships can work, and complements the other energy efficient measures the stadium has implemented in order to reduce its carbon footprint."
The new solar PV installation has further bolstered the green credentials of the stadium which already boasts air to air heat recovery, low energy lighting, automatic controls, low water consumption taps and toilets, heat-pumps and a building management system to reduce the its energy usage.
Martin Griffiths, chairman of Bristol Sport, said: "We've worked hard to design, build and operate a socially responsible venue for the city. As well as being home to the two largest sports teams in the area, we also host numerous conferences and events every day. The installation of solar PV helps ensure we're being environmentally friendly while also cutting down on operating costs."
The installation is the latest example of Bristol City Council using solar power to reduce energy costs while increasing the use of renewable energy in the city. In September 2015, a 97kW system was installed on the roof of Easton Leisure Centre, reducing the energy bill by £9,000 per year.
A month before, 181 solar panels were installed on the harbourside museum M-Shed which alongside other energy efficiency measures will save the museum around £50,000 per year on energy bills.
The council plans to carry out more of these installations in partnership with private sector organisations and is offering to help businesses determine whether or not they have a suitable roof for solar.
The next project has been planned for the Bristol Arena, which will see solar panels compliment a connection to the city's new heat network infrastructure helping to create a low carbon and sustainable venue in line with the city's climate and energy targets.
Bristol is not the only city to see its local authority roll out PPA-funded solar schemes across the region, with Portsmouth City Council announcing last month that it intends to deploy 2MW annually under a similar scheme.
Independent consultant and local authority expert Stephen Cirell wrote in his recent blog for Solar Power Portal that councils should be using PPA style schemes to increase solar deployment in response to government subsidy cuts.
"Power purchase agreements (PPAs) with commercial tenants of local authority owned buildings, or indeed the council simply using the electricity in the buildings it occupies itself is the answer," he said.