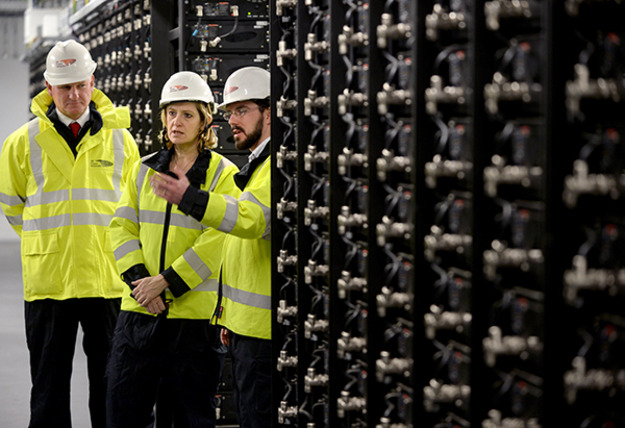 Developers who were successful in winning contracts within last week's Capacity Market auction have lauded the "crucial role" battery storage is set to play in the future for the national grid.
The auction for the winter period 2020/21 concluded last Thursday afternoon and the results were published on Friday morning, revealing that of the 3.2GW of storage assets to have won provisional contracts just over 500MW is new-build battery storage. These results remain provisional until 20 December when the winning developers must confirm which projects they will complete.
Successful competitors included energy giant Centrica, which is set to develop a 49MW battery storage facility in Roosecote, Cumbria, on the site of a former coal-fired power station demolished last year.
Jorge Pikunic, managing director of Centrica's Distributed Energy & Power unit, which will manage the site, said battery storage was likely to play a crucial role in supporting the UK's network stability as an increasing amount of flexible renewable generation came online.
It marked a successful week for Centrica, which earlier confirmed it is to run a major, three-year smart grid pilot project in Cornwall comprising residential and commercial-oriented batteries and renewable generators from next spring.
Pikunic added: "We believe there is also an opportunity for businesses and other large energy users to get involved, which is why we're helping them unlock new revenue streams and make their sites more resilient by installing their own on site facilities, or by optimising their existing energy assets."
Demand side response, which can be significantly boosted by storage technologies, was three times more successful in this year's auction compared to last year's. The Association for Decentralised Energy forecasted that end users stand to benefit from the results by as much as £90 million.
Low Carbon was also among the successful parties on Friday afternoon, winning further support for two of its projects which had previously won contracts under National Grid's Enhanced Frequency Response tender in August.
In a statement issued to Solar Power Portal, a spokesman for Low Carbon said the results were a "step in the right direction to cement energy storage into our overall energy mix".
"We see energy storage as playing a crucial role in both the management of energy supply in the UK and in the wider uptake of renewable energy technologies nationwide in the future. As the UK's energy requirements continue to grow, energy storage has an essential role to play in ensuring that energy is always available where it is needed.
"As the energy industry moves away from carbon-heavy production, the twin-approach of renewable energy and storage will enable us to collectively combat the causes of climate change and achieve a global low-carbon future through carbon emissions reduction," the spokesman added.
Battery storage developer UK Power Reserve garnered more than one fifth of the contracts awarded to battery storage technologies in total, landing support for 120MW worth of battery assets in what the company's chief executive Tim Emrich labelled a "compelling growth story" for the UK energy market.
"This diversification is an important, strategic move into a technology that will become a critical part of the UK energy mix in the coming decade. Since our 2010 inception, we have worked hard to disrupt the status quo and provide superior value and service to UK consumer," he added.