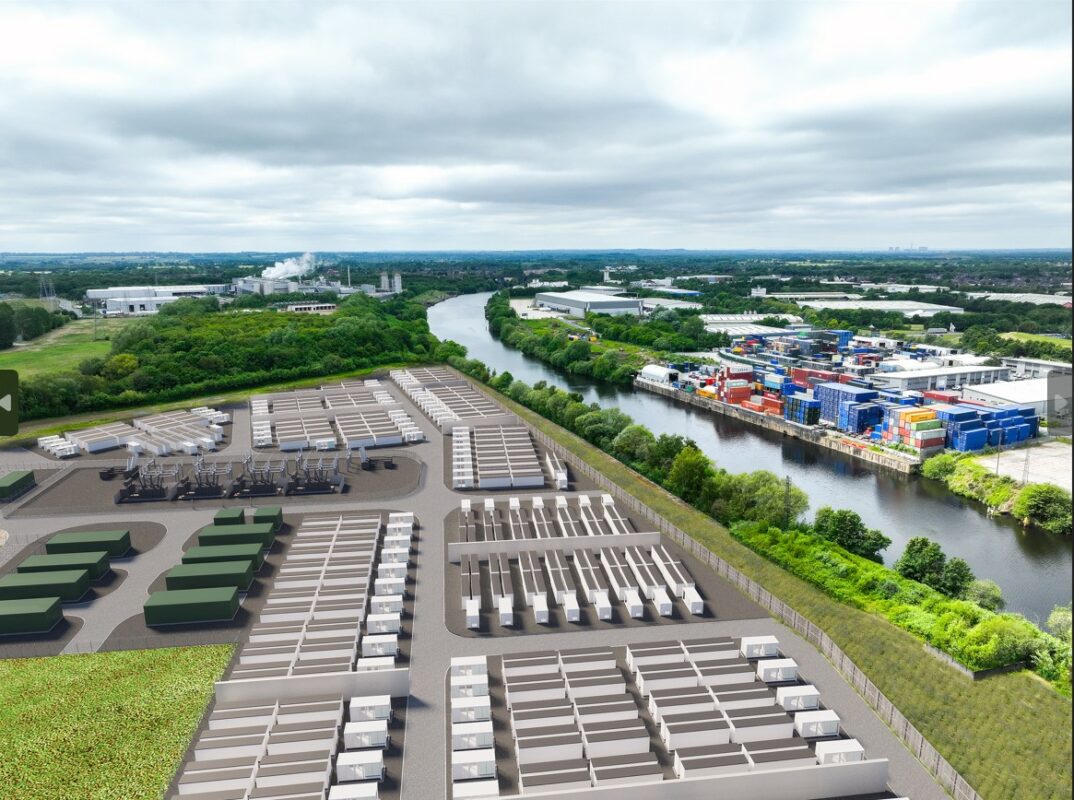 Carlton Power, an energy infrastructure development company, has gained planning consent for a 2,080MWh battery energy storage scheme (BESS).
The BESS project, which Carlton Power touts will have a capacity of up to 1GW (1040MW/2080MWh), will be located at the 'Trafford Low Carbon Energy Park' in Greater Manchester, UK and require £750 million in capital to create.
The project is subject to a final investment decision with Carlton currently in advanced talks with companies to finance, build and operate the BESS.
Should this go ahead as planned, Carlton anticipates construction to begin in early 2024 with commercial operations to start in the final quarter of 2025.
Planning permission for the BESS was granted by Trafford Council, the local planning authority.
"Carlton Power acquired the former coal fired power station in 2008 to redevelop the site for new energy projects," said Keith Clarke, founder and chief executive of Carlton Power.
"With the approval of the BESS, this brings the total investment value of the site to £2 billion, which will deliver significant economic benefits to the Greater Manchester region and help to deliver the regional net zero targets. The investment in the Trafford Low Carbon Energy Park over the next 2-5 years demonstrates Carlton's long-term vision and commitment to re-energising the Trafford site."
Trafford Low Carbon Energy Park will consist of multiple renewable and low-carbon projects with the aim to accelerate the North West's route to net zero. This includes Carlton's separate project, the 200MW 'Trafford Green Hydrogen' scheme. The first phase of this project (15-20MW) is also set to enter commercial operation in the final quarter of 2025.
Councillor Tom Ross, the leader of Trafford Council and Green City-Region lead for Greater Manchester, said: "The Trafford BESS, alongside the Trafford Green Hydrogen scheme, places Trafford and Greater Manchester at the forefront of the UK's energy transition. The two schemes will help address our climate crisis – one of Trafford Council's corporate priorities – and will support our region's plan to reach a target of net zero carbon emissions by 2038. I applaud Carlton Power's long-term vision in developing the Trafford Low Carbon Energy Park."
Although the project's size would make it the largest in the UK, eclipsing the UK's current largest BESS – Harmony Energy Income Trust's 98MW/196MWh Pillswood battery asset – it still falls behind some global schemes, as covered by Energy-Storage.news.
In June 2022, an infrastructure group owned by billionaire Enrique K Razon proposed building a solar-plus-storage project in the Philippines with a 4,000-4,500MWh of battery storage capacity.
Razon's Prime Infrastructure Holdings (Prime Infra) would oversee the project which would combine the BESS with 2.5-3.5GW of solar PV.
This article first appeared on Solar Power portal's sister publication Energy-Storage.news.