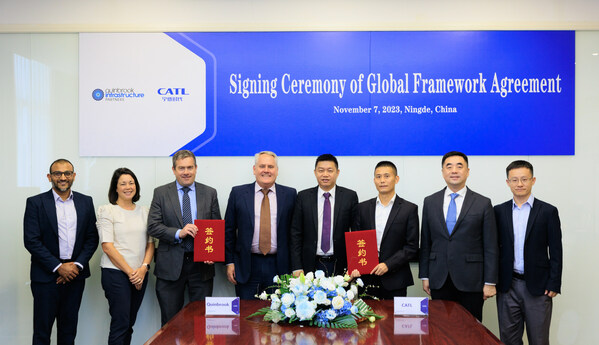 Contemporary Amperex Technology (CATL) and Quinbrook have signed an agreement that could see the Chinese battery manufacturer's first 1GWh+ project using its EnerC Plus battery storage technology in the UK.
Formalised via the signing of a global framework agreement, the partnership includes the design, optimisation and supply of CATL's EnerC Plus technology, a complete liquid cooled containerised battery storage solution, across three international markets including the US, UK and Australia.
It is important to note that Quinbrook's renewables and storage development portfolio in the US, UK and Australia currently exceeds 50GW.
As well as the UK, the companies will also assess the feasibility of deploying a first 1GWh+ EnerC Plus projects in Australia. In the US, Quinbrook has already deployed CATL's storage technology in the Gemini solar-plus-storage project in Nevada.
Brian Restall, Quinbrook's managing director for Australia and the co-chair of Quinbrook's Global Procurement Committee said: "Quinbrook has a long history of working closely with CATL for our innovative stationary storage projects.
"We are impressed by the quality of CATL's technology that consistently tops DNV's annual Battery Scorecard report, their robust product supply chains and the company's commitment to investing in research and development to maintain their cutting edge technical advantage. We look forward to continuing our working partnership and assessing the viability of CATL's ultra long duration storage solutions as well."
Another deal was signed in late 2022 by the manufacturer with UK-based energy storage investor Gresham House Energy Storage Fund, for an initial 7.5GWh, rising to a potential 10GWh, again thought to be focused around the EnerC solution.
Commenting on the partnership with Quinbrook, Tan Libin, vice-president of CATL said: "We are excited to strengthen partnership with Quinbrook, which is experienced in leading investments and initiatives that support a stable transition to a decarbonised power system.
"Together with Quinbrook, we look forward to implementing more large-scale battery energy storage projects globally with our innovative solutions, so as to help addressing climate change and move towards a clean and sustainable future."
This article first appeared on Solar Power Portal's sister publication Energy-Storage.news.