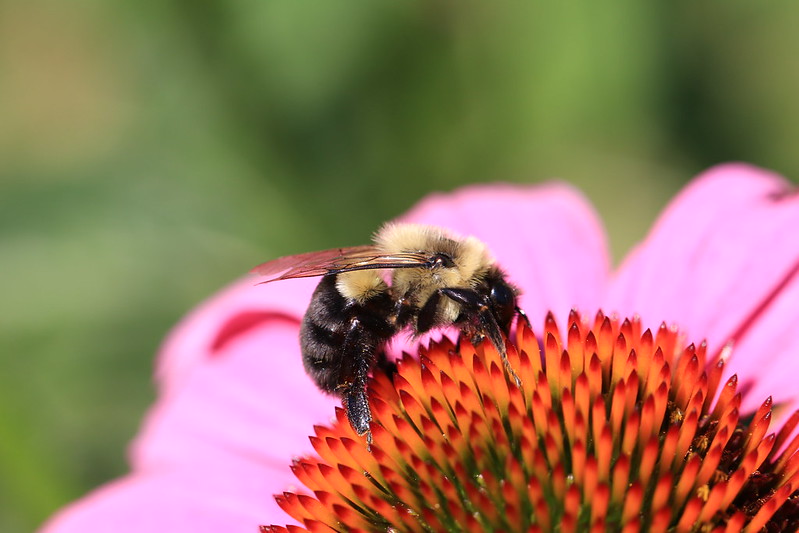 Changes to how solar PV park land in the UK is managed could see sites support four times as many bumble bees, new research has found.
Specifically, this can be achieved by managing land as meadows rather than turf grass, with researchers at Lancaster University coming to this conclusion through the use of a model that simulated bumble bee foraging in UK solar parks.
The researchers looked specifically at ground nesting bumble bees, also finding that large, elongated and resource-rich solar parks could boost bumble bee density up to 1km outside of the parks themselves, delivering pollinator services to crops in surrounding agricultural land.
However, barriers to solar parks being managed in ways that benefit bumble bees were also identified, including the costs associated with establishing and managing habitats for pollinators, with no economic incentives for the solar industry to do this.
Additionally, business structures could also be a hinderance, with management of solar farms often outsourced to external companies with contracts typically being around two years long. This, along with frequent changes in ownership of the solar farms, means management regimes could be changed as the solar park or management contract changes hands.
This research follows a report from Solar Energy UK in 2019 detailing how increased biodiversity on solar farm land can help tackle both the climate emergency and the UK's declining wildlife, while also contributing to changing the perception of the public and policymakers who are skeptical about the technology.
To support increased solar farm biodiversity, the Solar Park Impacts on Ecosystem Services (SPIES) tool was launched, which is able to show the effect of different management strategies on ecosystem service provision and identify management actions to enhance ecosystem services.
The SPIES tool was developed by Lancaster University, from which today's research also comes, as well as the University of York in collaboration with a cross-sectoral stakeholder group that included The National Solar Centre and Solar Energy UK.
To calculate the impact of different management strategies on bumble bee populations, researchers from Lancaster University used a geographic information system to create solar parks of different sizes, shapes and management approaches based on real UK examples, with this then combined with a pollinator model called Poll4Pop. This predicted bumble bee density and nest density inside the solar parks and surrounding buffer zones.
The researchers then used statistical analysis to investigate differences in bumble bee density and nest density across the solar parks in the mode.
"In the UK, pollinator habitat has been established on some solar parks, but there is currently little understanding of the effectiveness of these interventions. Our findings provide solar park owners and managers with evidence to suggest that providing floral and nesting resources for bumble bees could be effective," Hollie Blaydes, a PhD researcher at Lancaster University, said.