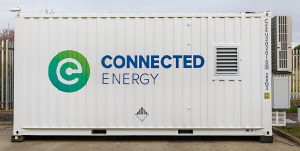 Second-life battery storage system company Connected Energy is celebrating a successful investment round with ENGIE New Ventures increasing its strategic investment.
The company uses end-of-life electric vehicle batteries to create energy storage systems, connecting multiple to make a scalable storage solution with a capacity ranging from less than 100kwh up to 15MWh or more.
Most recently in the UK it installed its second E-STOR system at the Mildenhhall Hub in Suffolk in October 2020, a 300kW/360kWh system paired with onsite solar. This was announced in the same week the Low Carbon Innovation Fund 2 (LCIF2) invested £350,000 into the company.
ENGIE New Ventures, the corporate venture fund of ENGIE, together with LCIF2 and existing investors Sumitomo and Macquarie will help the company expand its operations further.
"With this additional investment we aim to capitalise on our system data to further optimise our technology and continue to scale up our development plans," explained Matthew Lumsden, CEO of Connected Energy
"We almost double the working life of the batteries for vehicles and thereby greatly increase the value created from the resources already embedded in them. Our objective is to provide our end-customers with bankable energy storage systems and our battery supply partners with reliable routes to market for their second-life batteries."
Connected Energy's stationary energy storage technology E-STOR can increase the life of electric vehicle batteries by 5-19 years, it stated, helping to provide flexible, modular storage systems.
Johann Boukhors, managing director at ENGIE New Ventures, said Connected Energy was offering an "ingenious" solution to one of the energy sector's biggest challenges, storing large capacities of electricity from intermittent generation.
"Its approach provides a strategic fit with ENGIE's ambition to accelerate the transition towards a carbon-neutral world. Our investment in Connected Energy is a key example of developments in our distributed energy management business like Zero Emissions Services (ZES) in The Netherlands and other projects in Belgium."
Solar Power Portal publisher Solar Media will be hosting the Energy Storage Summit 2021 in an exciting new format on 23-24 February and 3-4 March. See the website for more details.