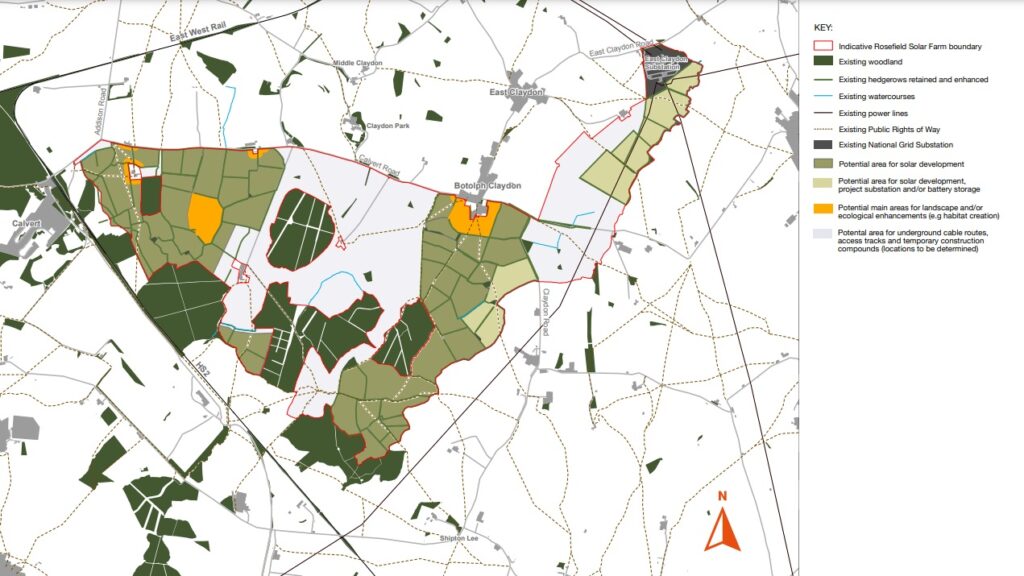 Public consultation has opened on a large-scale solar photovoltaic (PV) project in Buckinghamshire which is at the early stages of development, by co-owners EDF Renewables UK and PS Renewables.
EDF said yesterday (28 September) that it is seeking feedback on its proposed layout designs, as well as the potential for using part of the site to host recreational activities and to add "landscape and ecological enhancements".
That includes considering viewpoints on whether the area's existing footpath network could be improved, such as linking together Public Right of Ways with the Rosefield project's surroundings or creating new routes to woodlands.
Situated between Buckingham and Aylesbury in the southern English county, the project owners intend to also put battery energy storage at the plant.
It was not clear from a release sent to media or from a dedicated project website what the planned generation capacity of the solar PV array will be, nor the expected sizing or capacity of the battery energy storage system (BESS).
EDF Renewables UK external affairs manager Peter Hess later told Solar Power Portal that as the companies are "still in the very early stages of developing our plans," they did not have figures to share at this point.
That said, EDF did mention that Rosefield will be classified as a Nationally Significant Infrastructure Project (NSIP). That means it will have a grid export capacity exceeding a 50MW threshold and will require the granting of planning permission by a Secretary of State through a Development Consent Order (DCO).
EDF-PS Renewables' second NSIP solar project
As reported by Solar Power Portal in July, the government is in discussions to try and speed up the process of NSIP development. The government's aim is to make the process "better, faster, greener, fairer and more resilient by 2025," having signalled its intent to do so earlier in the year.
Meanwhile, the owners did also say on the Rosefield project website that a grid connection agreement has been secured with National Grid which would allow for the export of up to 500MW of electricity via the nearby East Claydon substation.
The power plant will have a planned 40-year lifespan, after which the land used will be suitable to return the agricultural use, the Rosefield Solar Farm partners said.
EDF and PS Renewables have already been working together on the 350MW+ Longfield Solar Farm project in Essex, which received planning consent in June. It marked the first >50MW project by EDF in the UK.
"We are currently at the earliest stages of the development of Rosefield Solar Farm, with local views vital to helping us develop our plans. We encourage everyone to get in touch, meet with us and share their views during the consultation," EDF Renewables UK director of solar, energy storage and private wire Matthew Boulton said.
Boulton added that solar PV is "an important part of the way" to meeting the challenge posed by the climate crisis, especially given how much more quickly it can be built compared to other renewable energy technologies.
Solar projects such as Rosefield will also boost the UK's supply of domestically-sourced clean energy, Boulton said.
The companies' six-week consultation opened yesterday and runs until 10 November. If it progresses through its development as the project owners anticipate, a Secretary of State decision could be made in Summer 2026.