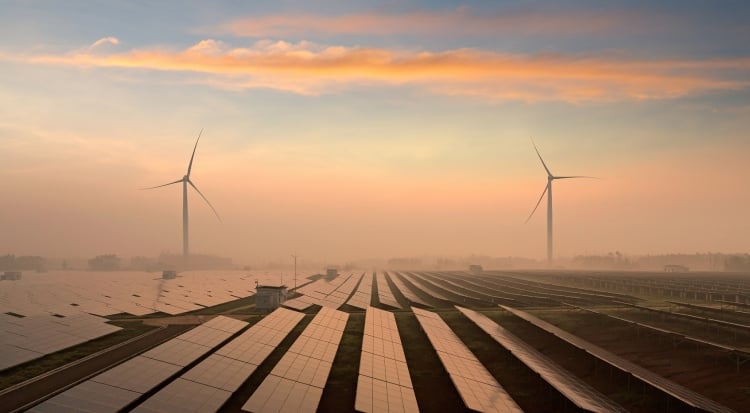 The UK's solar capacity could soar to as much as 44GW by 2050 if consumers take command of their own power supply, National Grid has forecasted.
The UK's transmission system operator today unveils its Future Energy Scenarios, charting how it considers the UK's power market might evolve from now until both 2025 and 2050.
Using various models and insight, National Grid has compiled four principal scenarios of varying levels of ambition, dubbed 'Steady State', 'Slow Progression', 'Consumer Power' and 'Two Degrees'.
Its most pessimistic scenario Steady State, a word in which security of supply takes precedence and short-term policies are pursued, the UK's solar capacity will grow to 14.33GW by 2025, an increase of less than 2GW on current levels. Solar capacity will also decrease by 2050 as PV generators are not renewed past their current operational life.
However the most ambitious scenario for renewables deployment – 'Consumer Power' – expects the majority of UK consumers to become 'prosumers' and generate their own power. This will see 23.53GW of solar deployed by 2025 and 44.15GW – a near quadrupling of current levels – by 2050.
The two other scenarios forecast more modest growth. Slow Progression puts solar capacity at 17.87GW by 2025 and 31.86GW by 2050, while Two Degrees – designed to reflect 2050 carbon reduction targets – estimating 19.89GW of solar by 2025 and 38GW by 2050.
However within its coverage of potential sensitivities to its models National Grid also discussed the concept of a 'Consumer Renewables' world, one in which the UK's 2050 climate initiatives are largely met by homes and businesses taking matters into their own hands.
This would see the significant majority of consumers employing decentralised generation – typically solar, wind and battery storage – on their homes and offices. Under such a model, National Grid forecasts that as much as 63GW of solar could be operational within the UK by 2050, complemented by 42GW of storage.
Under this scenario, which would see nearly two-thirds (60%) of all power generation occurring behind the meter, the system operator would have to contend with increasing flexibility in managing high winter demand.
National Grid has also moved to highlight the inherent issues in managing the UK's transmission network with such high levels of solar generation come on stream. "…growth in solar capacity at this scale is radically changing electricity demand seen at the network level, introducing new operability complexities," National Grid has said.
The below chart documents fluctuations in transmission system voltage on an average summer's day from last year and what the operator forecasts might be the case by 2024 when additional solar capacity has come on stream.

National Grid has already been quick to highlight the consequences that record levels of solar generation have had on the grid. Earlier this year afternoon demand dipped below that of the night before for the first time in the UK, while solar generation records have been broken already this summer.
The operator said today that this was yet more evidence of the burgeoning evolution in the power market. "Last year I said that we were in the midst of an energy revolution, and this year it is even more evident," Marcus Stewart, head of energy insights at National Grid, wrote in the document's foreword, adding that cost reductions in solar and storage had already "driven major change in a short space of time".
Emma Pinchbeck, executive director at RenewableUK, said: "This year's report recognises that renewables have transformed our energy system, disrupting the status quo and displacing fossil fuels extraordinarily fast – and that this trajectory is set to continue, with the rapid development of energy storage."