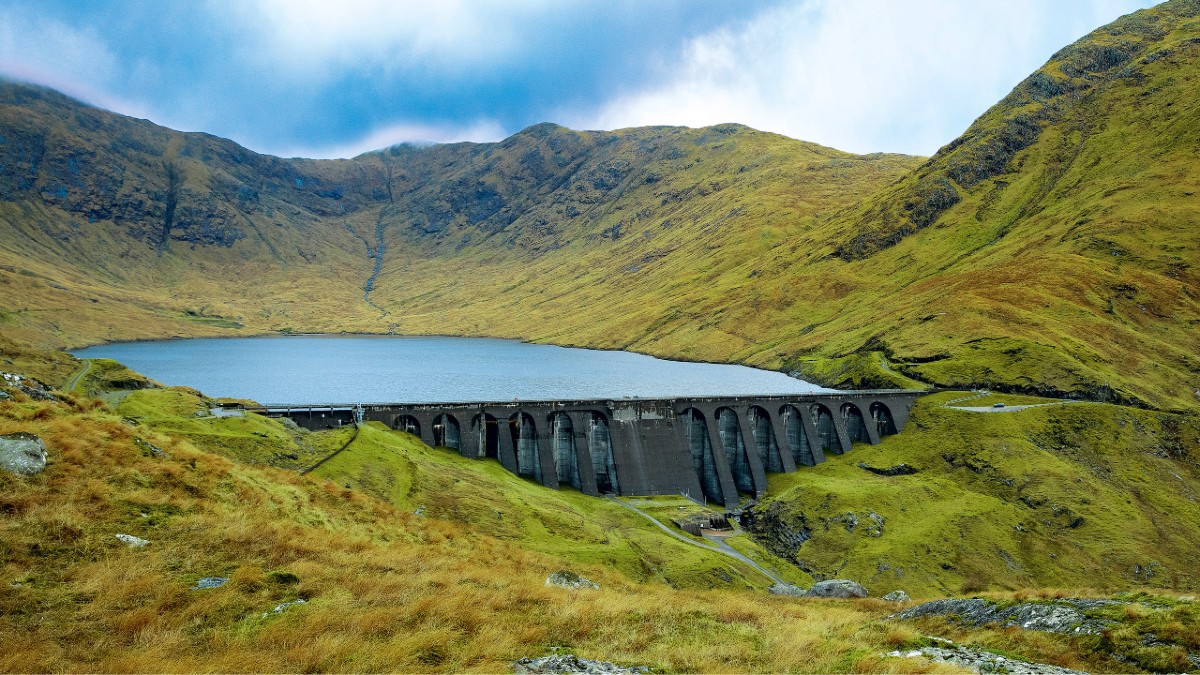 Drax has announced plans for a new underground pumped hydro storage power station, and will seek planning permission to expand its Cruachan site in Scotland to 1.04GW.
The 600MW power station will be built inside Argyll's highest mountain Ben Cruachan, alongside the company's existing 440MW pumped storage hydro station dubbed the Hollow Mountain. The two will share the existing upper reservoir, as it has enough capacity for both at 2.4 billion gallons of water.
A new, hollowed-out cavern will be constructed, with more than a million tones of rock excavated to create the space within the mountain.
When constructed, the site will provide stability services to the power system, acting as a giant water battery. This will help cut energy costs by reducing the need to turn off wind energy generation due to system constraints – for example 3.6TWh of wind power was curtailed in 2020 according to analysis from Lane, Clark and Peacock – and thus unlock more renewable electricity capacity, said Drax's CEO Will Gardiner.
"Last year, the UK's lack of energy storage capacity meant wind farms had to be paid to turn off and we lost out on enough renewable power to supply a million homes. We need to stop renewable power from going to waste by storing it, and Drax is ready to move mountains to do just that," he added.

The company must now secure consent under Section 36 of the Electricity Act 1989 from Scottish Ministers to move forwards with the project, which it expects to take about a year from the application's submission. The first phase of this includes public consultation, which Drax will open on the project's website from 1 July, with further consultation events held later in the year.
In addition to Section 36, Drax has stated that updated policy and market support mechanisms from the UK Government will be needed for the expansion to come to fruition. The lack of framework for large-scale, long-duration storage and flexibility technologies has been highlighted as a key challenge for new pumped hydro storage projects as it means that private investment cannot currently be secured.
This barrier was flagged in a report from the Association for Renewable Energy and Clean Technology in March, which called on the Government to introduce a future-proof income stabilisation mechanism to de-risk investment.
The lack of a market support mechanism is a significant contributing factor to the fact that no new pumped hydro plants have been built in the UK since 1984. The original Cruachan pumped storage hydro plant was built on the shores of Loch Awe in the 1960s, and was the first reversible pumped storage hydro system of its scale in the world.
In addition to providing storage capacity, the existing Cruachan site has started to provide National Grid ESO with inertia as part of a "first of its kind" six-year contract.
As the need for storage continues to grow in the UK, attention is once again turning to the potential of pumped hydro. Earlier this month, the ILI Group had its 450MW pumped hydro plant, which is to sit on the shores of the iconic Loch Ness, approved by the Scottish government for example.
Drax's decision to expand the Hollow Mountain site has been welcomed by its local MP and MSP. Following consultation of the project, an application is expected to be submitted to Scottish Ministers in early 2022, and if successful, work would begin in 2024 allowing the plant to start providing flexible energy storage by 2030.
"This will support 900 rural jobs and create a pumped storage facility that will be able to provide enough renewable energy to power a million homes while helping us reach our 2045 net zero target, it is great news for this area and for Scotland," said Brendan O'Hara, Argyll & Bute MP.