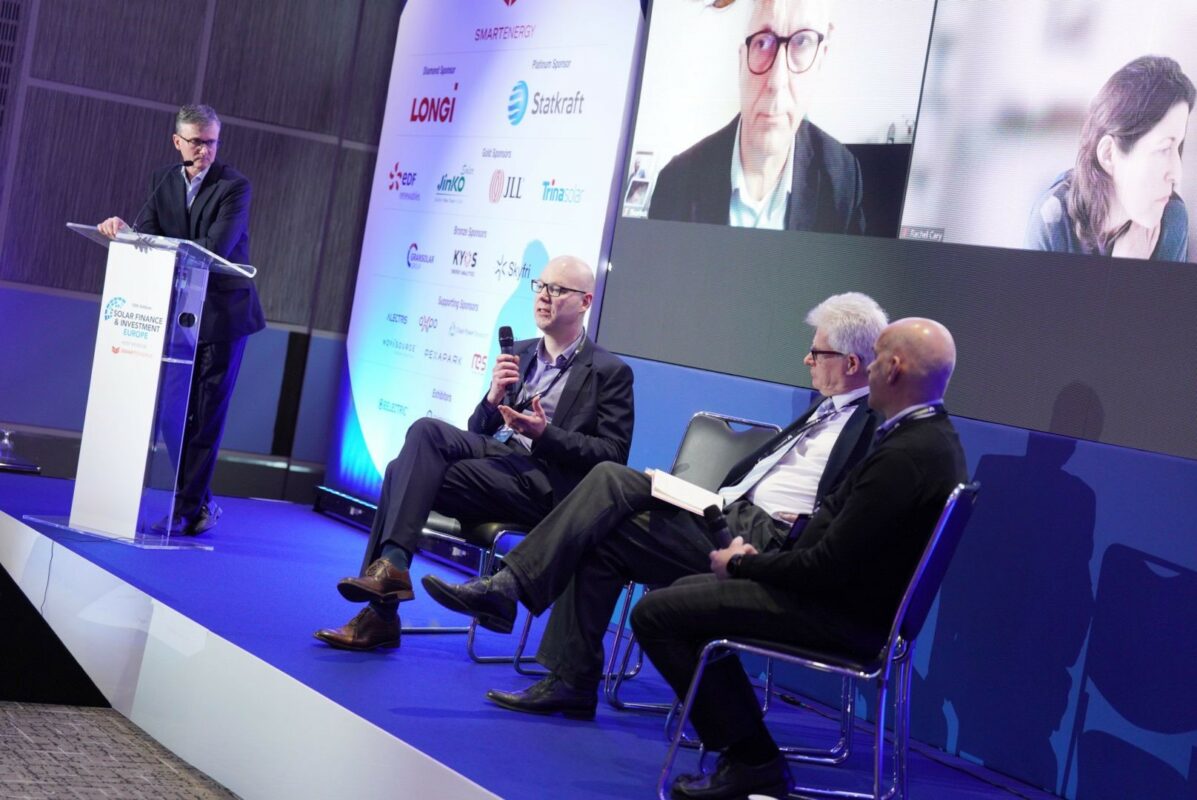 The economics of developing solar have "decisively switched" according to a panel of experts this week, but development still faces a number of barriers with the most significant being the grid.
Opening the 'A United Kingdom of Solar?' panel session at the Solar Finance and Investment Europe conference yesterday (1 February), Chris Hewett, CEO of Solar Energy UK said that the economics of solar development had been nearing a tipping point before the Russian invasion of Ukraine, but the war and the energy crisis has made the technology unquestionably economic in the UK.
As such, we can expect the UK's solar and storage capacity to double, growing to account for around 10% of the energy mix by 2025, continued Hewett.
But grid constraints, the land use debate and market structures still pose challenges the audience at Solar Finance and Investment Europe (SFIE) – run by Solar Power Portal's parent company Solar Media – heard yesterday (1 February).
Grid connection challenges worsening
Grid is largely seen as the biggest of these barriers, and "the situation is getting worse" said Jonathan Selwyn, managing director of Bluefield Development.
Grid connection dates for transmission projects are now out into the 2030s, slowing the addition of clean solar power to the energy mix.
There is a significant resource problem, Selwyn noted, with staffing shortages in particular as engineers are retiring or being attracted into other sectors, less people moving over from mainland Europe, and network operators struggling to replace these people due to restrictions on investment.
Concern around grid connections was echoed by other panelists, with Ben Fawcett, head of solar at EDF Renewables UK saying they could make net zero targets challenging.
"What we should be doing as an industry as a whole is working with Ofgem and BEIS to explain the situation, and look for solutions," he added, pointing to the staffing shortages as a key area where collaboration could further training opportunities.
Additionally, he pointed to the increasing use of smart management systems with storage to increase grid connections. Previously there has been some "conservatism" in terms of the capacity allowed to connect, noted Fawcett, but increasingly such smart management could be used to maximise the existing infrastructure.
Land use concern around 'cumulative overdevelopment'
Moving on from grid connections, the panel turned its attention to concern around land use and planning. This was a particularly big focus for the UK solar industry in 2022, following comments from a range of politicians that drew a spotlight to the area.
However, if every solar farm currently put forward was built, this would still account for less than 0.4% of the UK's agricultural land and 0.28% of the UK's entire land area, according to Solar Energy UK.
And even if five times as many solar farms were built as the country pushes to increase the share of renewables within the energy mix, they would still only occupy less than 0.3% of UK land – less than half that currently taken up by golf courses.
As such, there has been a push from the industry to move beyond the land use debate, give the small footprint of solar.
Speaking yesterday, Dr Jonathan Scurlock, chief adviser for Renewable Energy and Climate Change to the National Farmers' Union, highlighted the union's broad support of solar developed with best practice.
He added that "we're not going to go and die in a ditch" over developments on Best and Most Versatile land. Although there is a general preference to avoid solar on such land, there will be some occasions where it can be done reasonably and with full cooperation of the land owner.
One area of concern highlighted by Scurlock however is "cumulative overdevelopment". Whilst the overall land use of solar throughout Britain is small, where solar farms end up clustered in areas – often due to available grid capacity such as in North Lincolnshire following the closure of fossil fuel plants – the projects can have a significant impact on local communities.
This is particularly true of Nationally Significant Infrastructure Projects (NSIPs) – those with a capacity over 50MW – which require a larger area of land for development. There are now 24 such projects at various stages in Britain, with several put forward in Lincolnshire.
Solar Finance and Investment Europe was run over 1-2 February in London by Solar Power Portal's publisher Solar Media. Find out more about the event here.