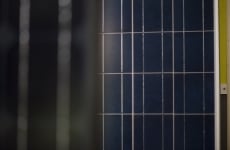 The European solar market is currently more "seller-friendly than buyer-friendly", resulting in developers trying to sell assets earlier in the process than before, according to BlackRock VP Stéphane Têtot.
Speaking to Solar Power Portal ahead of next month's Managing European Solar Assets conference in London, Têtot gave his opinion that developers are sometimes sounding out potential buyers of assets too early in the process.
"I guess that's a function of the market dynamic – I think the market has recently been a bit more seller-friendly than buyer-friendly, therefore they're trying to sell assets early on and I'm not sure they are helping themselves because they are taking on more risk than they would like," Têtot said.
The consequences for developers, Têtot added, would be a prolonged back-and-forth between parties that would threaten to drag out the financing and sale.
BlackRock, among the world's largest asset management and investment firms, continues to maintain an appetite for renewables projects in Europe including UK solar.
According to Têtot, BlackRock initially look to forge a relationship with developers and rather than have a minimum expectation of a developer's balance sheet, its first consideration is a developer's pipeline.
"We don't like to have only one short relationship with them, we like to work with project developers over years. What we want is to initiate a relationship with, let's say, a big enough first project or portfolio, and then follow on secondly with new projects over the years.
"The projects thereafter do not have to be extremely large, we just need a regular level of discussion, that's our first criteria," he said.
Stéphane Têtot is one of a number of expert speakers at Solar Media's Managing European Solar Assets conference, held between 24 and 25 April at the Royal Institute of British Architects in London. Further information on the programme is available here, and tickets are still available to purchase here.