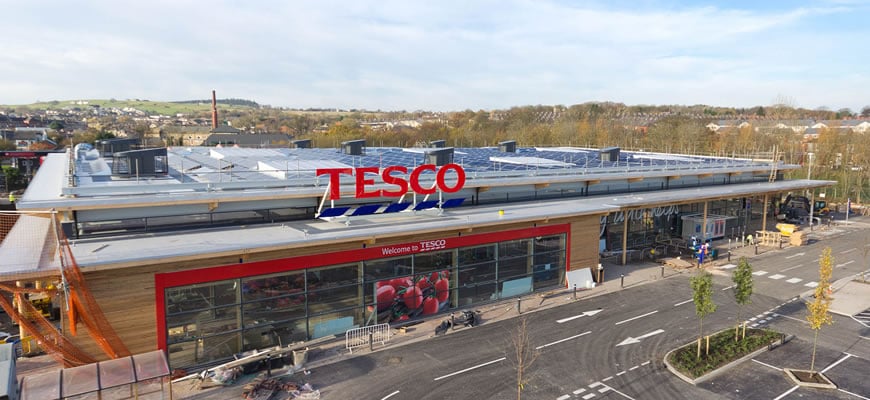 Tesco is planning a major rollout of solar on the roofs of its stores in the UK, Solar Power Portal can reveal.
Alongside its in-house market research team, SPP has identified at least five planning applications to install solar on the roofs of Tesco superstores in Nottingham, Lewisham, Sheerness, Martlesham and Yeovil, indicating that the rollout is countrywide and not consigned to any specific geography.
No specific details such as system size or component suppliers have yet been identified, but Tesco is partnering with developer Push Energy and financier Macquarie for the programme.
With Push and Macquarie both linked to the projects, Tesco's solar initiative bears stark similarities to Amazon's solar deployment initiative in the UK, which SPP revealed late last year.
In 2017 Tesco committed to deriving 100% of its power for its UK operations from renewable sources by the end of that year, and in December penned a deal with Volskwagen and Pod Point to install 2,400 electric vehicle charge points at its supermarkets over the next three years.
And the supermarket is no stranger to solar, having previously installed the technology on select properties under the feed-in tariff regime.
Neither Tesco nor Push Energy had responded to requests for comment at the time of publication.
Supermarkets have proven to be a rich vein of activity for the commercial rooftop solar market in the past, with most chains holding active deployment programmes. Sainsbury's has installed solar on more than 200 of its UK sites, amassing a generation portfolio in excess of 41MW before beginning to experiment with battery storage in recent years.
Discount supermarket chain Aldi and Marks & Spencer have also unveiled significant solar deployment programmes, the latter having installed the country's largest rooftop solar installation at its Castle Donington distribution centre in 2015.