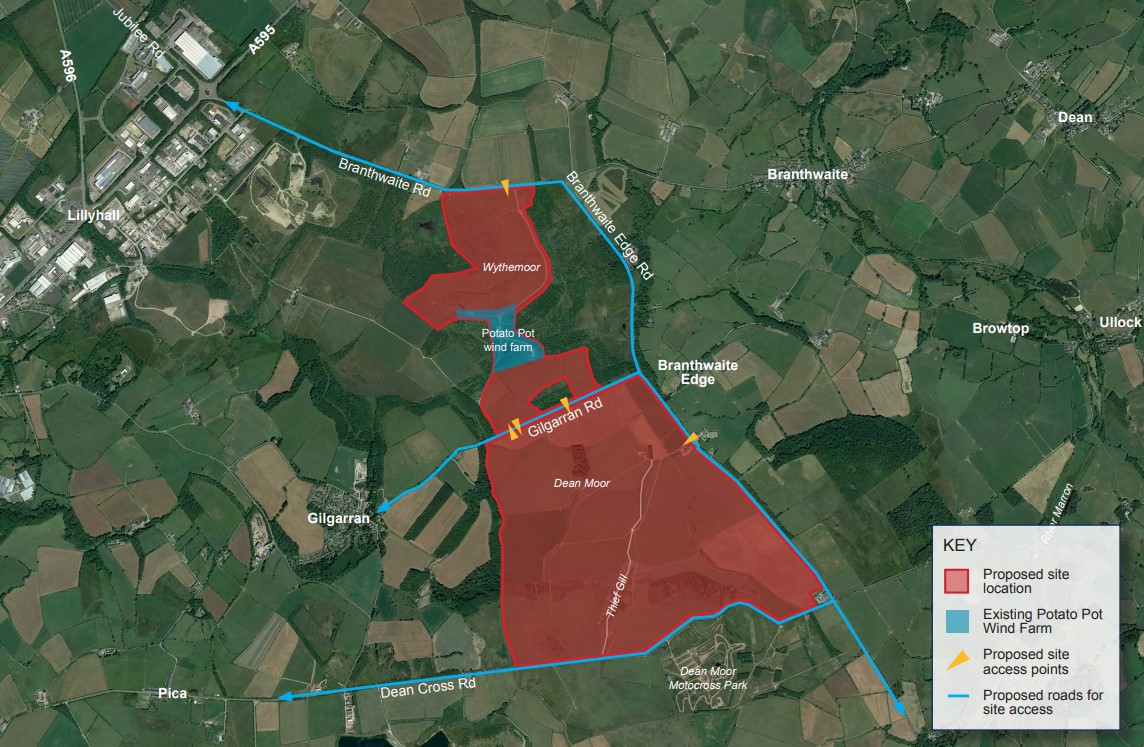 Joint venture Firma Vogt Solar has unveiled plans for a 150MW solar-based Nationally Significant Infrastructure Project (NSIP) in Cumbria.
Dean Moor Solar Farm would have a capacity of up to 150MW and benefit from a co-located 100MW battery energy storage facility. This would capture the energy produced from the solar panels and provide balancing services to maintain grid stability.
The joint venture between Firma Energy and ib vogt UK released a statement stating that the project would include "considerable areas for landscape planting and ecological enhancements". The project, if approved, would be located on approximately 300 hectares between Gilgarran and Branthwaite in West Cumbria.
A key aspect of the project is that the land, which is currently used for agricultural grazing, would continue to be used for this purpose via the use of ground-mount solar panels. This is known as agrivoltaics.
This method has been used in some of the globe's largest projects including Spanish solar developer Iberdrola's 590MW Francisco Pizarro solar facility in Extremadura in Spain. This project had been discussed in our sister site's 33rd edition of PV Tech Power, which you can find here.
Dean Moor Solar Farm would additionally look to include a package of community benefits. This has seen the developers offer a £500,000 benefit fund which, subject to receiving planning consents, would be utilised for "local community enhancement".
The next stage of the project will see Firma Vogt Solar conduct its first phase of public consultation in the Autumn of 2023.
"Firma Vogt Solar is dedicated to shaping a greener future and supporting the UK's mission to achieve net zero emissions by 2050. We firmly believe that solar energy, a clean and renewable resource, should play a key role in addressing the current energy challenges faced by the UK," said Rufus Salter, director of Firma Vogt Solar.
"Dean Moor Solar Farm exemplifies our commitment in action, as it is set to play a significant role in advancing these important goals, creating a positive impact for both the environment and the country's energy landscape."
This solar project becomes the latest NSIP to be proposed following renewable energy company Boom Power's plans to develop a 237.5MW co-located solar NSIP in Fenwick, Doncaster, as covered by Solar Power Portal in June.
Solar Power Portal's publisher Solar Media will be organising the 11th annual edition of Large Scale Solar Europe in Lisbon, Portugal during 21-22 March 2024. The event will explore the future solar markets of Portugal, Spain and Italy and with panels around securing faster grid connection, solar-wind hybrid projects and the integration of storage with solar PV among others.