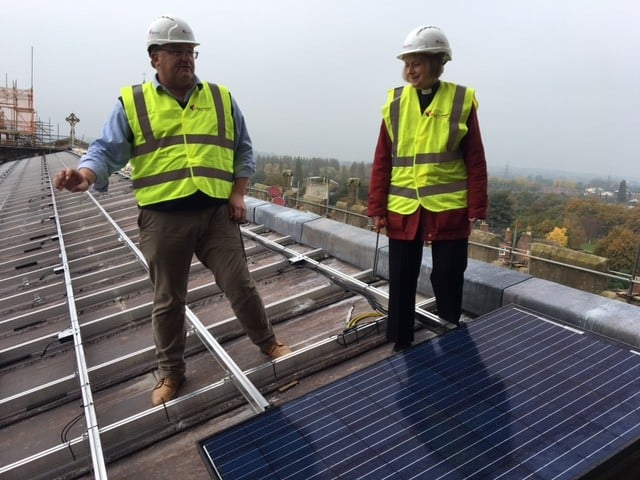 The first solar panels have been fitted at Gloucester Cathedral which is set to become the oldest cathedral in the UK to install a commercial size system on the roof.
The 150-panel system is being installed by MyPower under the cathedral's Project Pilgrim initiative and is expected to be in place ready to be switched on during Evensong on 21 November. Once complete, the panels are expected to reduce the cathedral's bills by 25%.
The system is being installed on the Nave roof of the building, making them virtually invisible from the surrounding area. Due to the historic nature of the building, MyPower has encountered a number of issues concerning the cathedral's roof, which has sagged over time making installation more difficult.
Ben Harrison, managing partner of MyPower, explained: "All roofs will sag a bit over time but particularly when there's lead, which expands and contracts with changes in temperature and alters how the building sits, so that was one issue to which we had to attend.
"With a modern build, you can work to a drawing and know exactly how it's going to be, but with a 1,000-year-old building like the cathedral you find twists and turns on the roof and undulations where it's sagged over the years."
He added that manoeuverability around parts of the site has also proved more difficult than usual, however Harrison added that the company was working closely with the Cathedral team to ensure the project is completed successfully.
The inaugural panel was laid this week by Rev'd Canon Celia Thomson, who said: "The installation of solar panels on this remarkable building is a historic moment. We are thrilled that our vision to become a greener cathedral is being fulfilled and proud to make a valuable contribution to the Church of England's Shrinking the Footprint campaign."