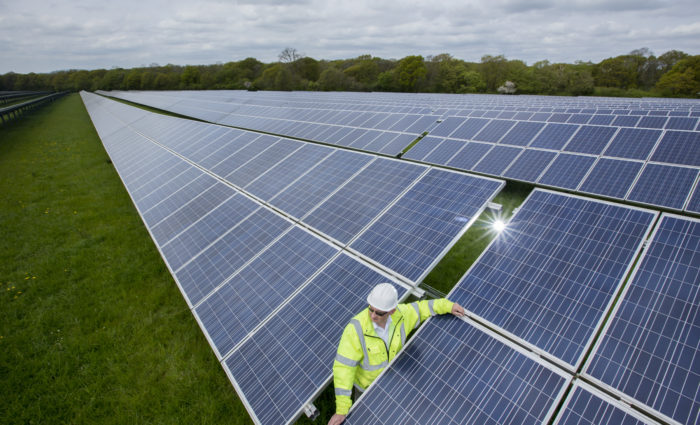 Foresight Solar has completed its second acquisition of a standalone battery energy storage asset.
It has acquired a 50% equity stake in Clayfords Energy Storage Limited from Intelligent Land Investment Group, which holds the development rights for a 50MW lithium-ion battery energy storage plant based in Buchan, Aberdeenshire, UK.
JLEN Environmental Assets Group Limited has also acquired a 50% stake in the company. The collaboration on this asset builds on the companies' previous relationship, with the two contracting Anesco to build and maintain 100MW of battery energy storage for them in October for example.
The site is fully consented and construction-ready, with commercial operations expected to start in Q4 2024. Foresight is expecting to invest up to £14.1 million in the site.
Clayfords Energy Storage follows Foresight Solar's acquisition of the Sandridge Battery project – also in collaboration with JLEN – in Wiltshire, England in May 2021.
This 50MW lithium-io battery has experienced delays to construction due to a programme delay to the grid connection, as well as increased lead times for battery components. This means it will now likely become operational in 2023 as opposed to Q4 2022 as previously stated.
However, the delay is expected to be offset by the improved market outlook for large-scale battery assets, Foresight Solar noted. This follows June seeing record high prices for Dynamic Containment, helping to significantly boost battery storage revenue, a trend that continued through July with storage achieving £21.5 million in that market service.
The company is continuing to review a pipeline of battery storage projects, as it looks to build out its portfolio and provide support to National Grid allowing a greater level of intermittent renewables on the system.
NAV jumps £40.5 million in Q2 due to high power price forecasts
Foresight has announced the acquisition alongside an update on its net asset value (NAV), which has grown to £754.9 million as of 30 June, up from £714.4 million on 31 March 2022.
This was driven by two key factors, the company said. First, a further upward revision in its power price forecasts. These are based on forecasts from three independent advisors, and resulted in a 3.4p per share uplift for Q2.
This uplift was slightly offset by an increase in the company's long-term solar capture price discounts. Along with boosting Q2, the uplift from power price forecasts for H1 also grew to 9.3p per share.
The second key factor was an update to inflation figures from Foresight Solar's short-term assumption when actual figures were released in May, which equated to a 6% increase for the first five months of 2022 alone.
The forecast for the second half of 2022 however remains unchanged at 5%, and is expected to add a further 3.3p per share to the company's NAV.
For Q2, Foresight Solar's NAV per ordinary share grew to 123.8p per share from 117.1p per share during the pervious quarter.
Over the first six-months of 2022, the electricity generated by the company's portfolio was 2.8% above base case, driven by strong operational performance. Its UK production was well ahead of budget due to strong irradiation.
Total revenues for Q2 2022 were 12% ahead of budget, driving H1 2022 revenues up by 18%. Its consolidated EBITDA was 13% ahead of budget for the quarter, and 26% ahead of budget for H1.
As such, Foresight Solar is forecasting an increased minimum target dividend cover of 1.5x for FY22. Its target annual dividend remains at 7.12p per share for the year ending 31 December 2022, and its first payment of 1.78p per share is scheduled to be paid on 26 August as previously announced.
The company's gross asset value (GAV) as of 30 June 2022 sat at £1,294.9 million, up from £1,244.2 million as of 31 March 2022. Its outstanding debt sits at approximately £540.0 million, representing 41.7% of GAV.
Looking ahead, Foresight Solar has secured further exclusive positions on ready-to-build battery storage projects totalling approximately 60MW, which it expects to complete in the coming months.
Additionally, it has preferential rights on a further pipeline of over 500MW of UK solar projects once they reach ready-to-build stage.