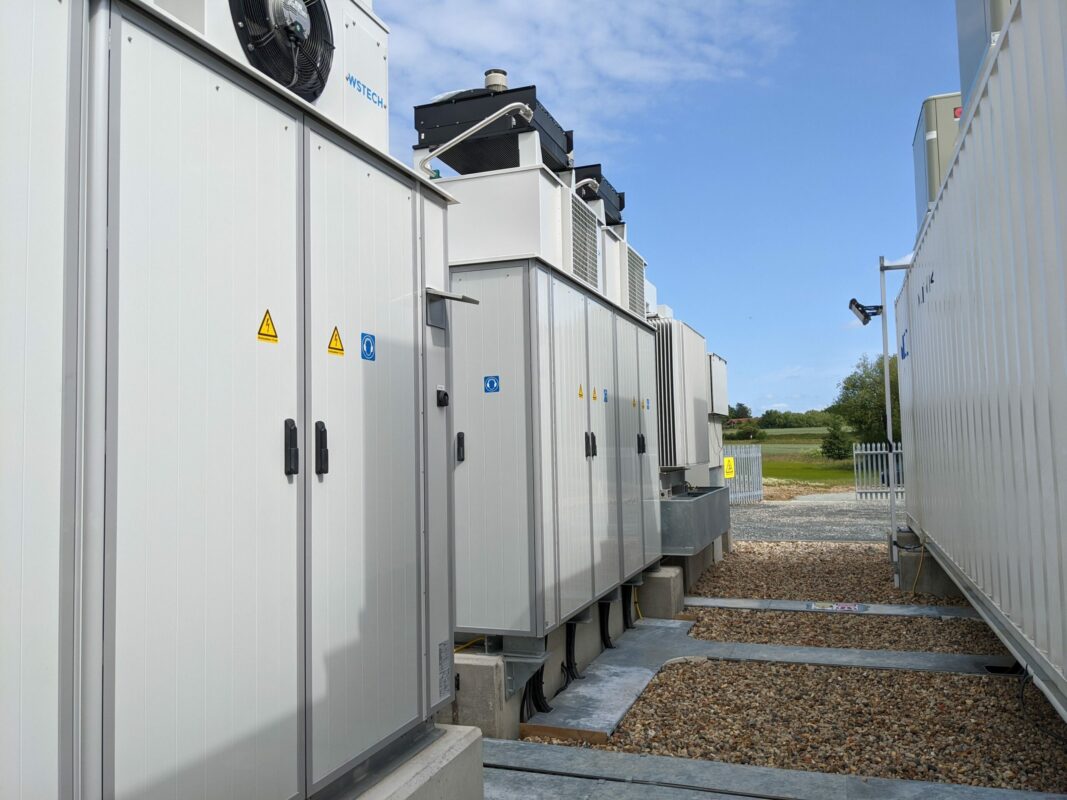 Gore Street Energy Storage Fund saw its NAV increase 192% in the year ending March 2021, as its portfolio continued to expand to 440MW.
This is a substantial jump from 189MW in the previous year, and included a growing Irish portfolio. Gore Street is now the largest operator of energy storage on the Irish Grid, with an estimated 66% market share. Additionally it holds around 10% of Britain's market share, with c.1GW of installed energy storage capacity.
Its full year results detail its 11 projects across the two markets, with an aggregate operational portfolio generating 210MW. An additional 190MW of sites are under construction and remain on track, despite the volatility of the last year caused by the COVID-19 pandemic.
All its operational assets – which are all lithium-ion battery sites utilising NEC, Fluence, BYD and Tesla technologies – performed within expectations, despite the company's 6MW NK Boulby asset having to undergo a series of upgrades that brought its delivery success rate across its portfolio to 93%.
Gore Street in particular flagged the introduction of Dynamic Containment in October 2020, which alone resulted in a 65% increase in the operational portfolio's average revenue against anticipated earnings.
Prices for Dynamic Containment between October and March were achieving their cap of £17/MW/h, compared with £10.3/MW/h during the same period for Fast Frequency Response. As such playing into the new post-fault service allowed the company to approximately double the revenue price it had set on the basis of last year's frequency response service.
Over the last year 87% of Gore Street's portfolio participated in the capacity market, with 100% expected to participate in it by October 2021. This was particularly significant as the company was able to benefit from the highest capacity price awarded to storage at auction to date, with the T-4 auction generating 2.5x previous revenues.
Additionally, the company's British portfolio opportunistically participates in both Balancing Mechanism actions and energy trades between consumers and generators. It was able to take advantage of spikes in market volatility in wholesale trading, with the company pointing to jumps during the March-end quarter of 2021, when it was able to deliver payments higher than those available in frequency response.
In Ireland, Gore Street's portfolio participated in the DS3 market, which the company said represents "one of the most complex packages of grid balancing activities available in the world". This leads it to be a lucrative market however, with revenues expected to exceed the 10% IRR target.
| Operational asset | Capacity | Location |
| --- | --- | --- |
| Mullavilly | 50MW | Northern Ireland |
| Drumkee | 50MW | Northern Ireland |
| Lascar | 20MW | Manchester |
| Hulley | 20MW | Cheshire |
| Larport | 19.5MW | Derbyshire |
| Ancala | 11.2MW | Distributed across GB |
| Breach Farm | 10MW | Derbyshire |
| Lower Road | 10MW | Essex |
| Port of Tilbury | 9MW | London |
| Boulby | 6MW | North Yorkshire |
| Cenin | 4MW | Swansea |
Across its operations, the company has targeted a market stacking strategy, helping to maximise participation in diverse ancillary services and minimise exposure to the more volatile power trading market. This has allowed it to mitigate some of the risks within the market, for example Brexit and the decoupling of the electricity markets, it stated.
Having been aided by the introduction of new services like Dynamic Containment, Gore Street said the British storage market had been further incentivised over the last year by changes to market regulations through reduced levies on stand-alone storage facilities as well as a reduction in capacity charges by around 30% depending on location.
Additionally, storage is now exempt from variable Balancing Services Use of System (BSUoS) charges, which could reduce the costs associated with operating storage systems.
This generally strong market supporting continued portfolio expansion allowed Gore Street's NAV per share to increase 6.7% in the year ending 31 March to 100.9p, from 94.6p in the previous financial year.
Its net income was £14.6 million, three times that of the previous fiscal year which saw a net income of £4.7 million.
Total shareholder return was 18.2%, and 25% since inception, while the quarterly dividend declared for the period was 1p per share, bringing the total dividend for the year to 7p per share as targeting.
Gore Street issued a further 91.3 million shares between June and December 2020, with issued share capital increasing to 143.9 million from 52.5 million shares as of 31 March 2020. Earnings per share were 16.6p.
Alex O'Cinneide, CEO of Gore Street Capital, the investment adviser to the Company, said he was delighted to report "another exceptional period of successful growth".
"We grew substantially during the year with our portfolio of assets totaling 520MW in aggregate, of which 210MW is already operational, delivering strong cashflows for the company and underpinning quarterly dividends to our shareholders."
Following the end of the 2020 financial year, Gore Street's pipeline has continued to increase, and is now at 15 projects with a total capacity of 520MW, of which 210MW is operational. This includes the acquisition of a new 80MW project dubbed Stony Energy Storage.
In total, it now has a pipeline of c.880MW with 300MW under exclusivity, spread across Britain, Ireland, Continental Europe and the United States.
Further expansion has been supported by the company's successful £135 million fund raise in April 2021.
Going forwards, Gore Street will continue to monitor the impact of COVID-19, as while it stated it has not significantly affected its operations over the past year it remains difficult to assess its full impact.
"The global transition to clean and renewable energy generation remains a leading priority for governments in the UK and Ireland, as well as further afield, and our assets play a major role in enabling that transition, whilst creating significant value for our shareholders," finished O'Cinneide. "I look forward to updating shareholders on our continued good progress."