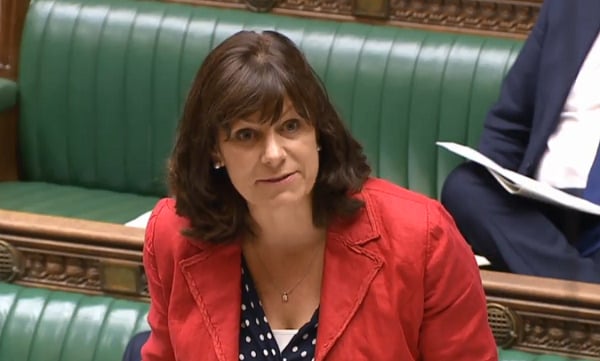 The government is keen to avoid a "bonanza" of people "gaming the system" as it continues to mull a replacement for the small-scale feed-in tariff scheme.
However the industry looks set for yet more time in the dark as a public consultation on future regulatory support for small-scale support now looks set to miss the pre-summer recess deadline.
Energy and clean growth minister Claire Perry took to the despatch box this morning when questioned by Labour MP Jeff Smith over the Department for Business, Energy and Industrial Strategy's (BEIS) future approach to small-scale renewables. Smith raised how the consultation is now more than seven months late, urging Perry to reveal when specifically it would be published.
Perry said she shared Smith's "desire for us to get on with it", but offered little in the firm of concrete dates, merely stating that she was "looking forward" to providing certainty "soon".
But more eye catching will be Perry's indication that her department must get the scheme right in order not to "create something that again creates a bonanza… for people who are gaming the system that puts up bills for consumers".
Leonie Greene, director of advocacy and new markets at the Solar Trade Association, described talk of bonanzas as "perplexing".
The feed-in tariff scheme's overhaul in late 2015 and re-introduction in February 2016 was triggered partly due to the government's commitment to a review under state aid guidelines, but also as a result of significant levels of deployment at FiT-rates which were deemed overly generous. As a result, tariff rates were cut by more than 60% and deployment over the last two years has fallen by circa 80% as a result.
Labour MP Alan Whitehead picked up on the flagging deployment levels, raising the fact that domestic installations are running at just 2% of their 2011 peak rate, before stating that the FiT consultation was now all but certain not to be published before summer recess. "Why is the minister fiddling about the future of FiTs while the solar house burns down?" he asked.
Perry was again not drawn onto specific publishing timetables, instead replying that she acknowledged Whitehead's point and reiterating the department's intent to "bring forward a scheme that works, but that does not put up bills for consumers".
WATCH: Shadow Energy Minister @alanwhiteheadmp press on the post FIT consultation, delayed over a year. Tough times for rooftop #solar indeed, but our 'solar house' is hanging in there! We do now urgently need policy engagement & clarity please @beisgovuk. #BEISOrals pic.twitter.com/LMZ96FbB8E

— STA (@thesolartrade) July 17, 2018
The consultation was widely expected to be published before this summer's recess after the government insisted within last year's Clean Growth Strategy that it would be published before the end of 2017. Its publication has continued to be pushed back, leaving the country's solar installers in the dark over what the regulatory framework for domestic solar will look like after the FiT closes on 31 March 2019.
Unless Prime Minister Theresa May is defeated in her bid to bring forward summer recess to this Thursday (19 July) – it is currently set for next Tuesday (24 July) – parliament will rise for summer and not return until 4 September, essentially blocking the consultation from being published.
However parliament then returns for just eight business days before it rises once again on 13 September for party conference season, returning on 9 October. Should the government fail to publish the consultation within three days of its return, it will mark a calendar year since a future strategy was promised within the Clean Growth Strategy.
Greene acknowledged that Perry appeared to share the industry's frustration with the delay, but stressed the need to "just get it out the door, however imperfect" because of the time it has now taken.