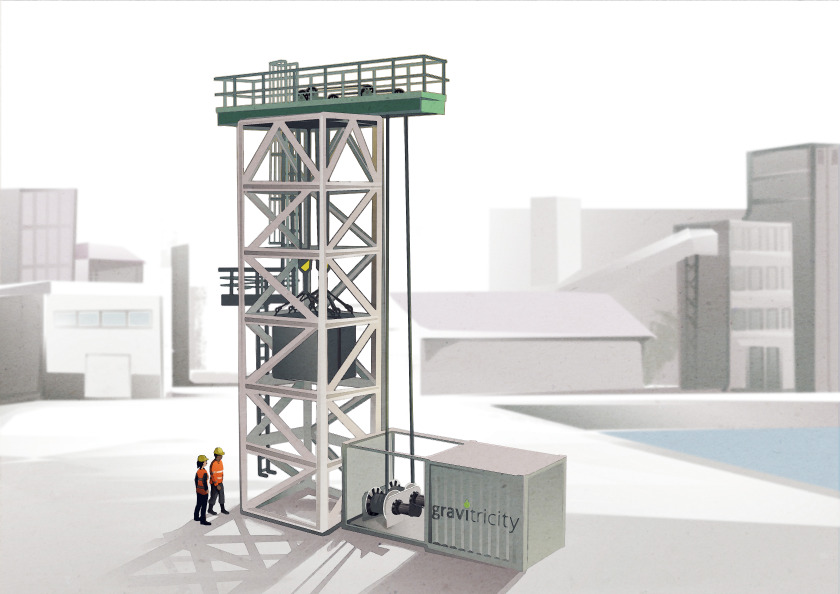 UK energy storage start-up Gravitricity is to build a 250kW demonstrator project in Scotland.
The company specialises in non lithium-ion storage, with a system that works by raising weights in a deep shaft and releasing them when energy is required.
The £1 million demonstrator project is to be built within the Port of Leith, following Gravitricity signing a land rental agreement with Forth Ports. Work is set to start in October, and it's hoped the site will be up and running by late December. It is being supported by a £640,000 grant from Innovate UK, with the company having also won £300,000 in InnovateUK's Energy Catalyst programme in March to undertake site and project feasibility work in South Africa.
Whilst Gravitricity will be targeting disused mine shafts in the future, this project will be trialed with an above ground structure on a smaller scale. A 16 metre high rig also be used to demonstrate the speed of response of the system, utilising what the "extensive" electrical network and grid connections at the port.
Two 25 tonne weights will be used in the demonstrator, although Gravitricity say that its system can support up to 12,000 tonnes when used in mine shafts.
The two month test programme will see an initial test to verify the speed of the response, with both weights dropped together to generate full power. Other tests will then be run with the two single weights, dropping one after the other to "verify the smooth energy output over a longer period," Gravitricty's lead engineer Miles Franklin explained.
The testing is expected to confirm the company's modelling and give "valuable data" for the first full-scale 4MW project, set to commence in 2021, Franklin added.
The company lauded its system as being able to store energy at half the lifetime cost of lithium-ion batteries, citing analysis from Imperial College London. Gravitricity is not alone in looking to kinetic energy as a storage solution, however. There are a number of companies exploring this area, including Swiss start-up Energy Vault, which also lowers and raises weights to provide energy, although it does so from a tower as opposed to using mine shafts.
An in depth look at the Swiss company, as well as other forms of long duration storage, can be read in the feature article 'The Contenders: Long duration energy storage technologies and who's behind them' on sister site Energy-storage.news.
Energy Vault recently signed a supplier agreement with Nidec ASI, whereas Gravitricity is working with Dutch wind firm Huisman for the supply of the winches and control system for its demonstrator, with the lattice tower to be delivered by Kelvin Power.
Gravitricity's project development manager, Chris Yendell, praised the Port of Leith as an "ideal location" for the project due to it being a grid-connected site with concrete hardstanding close to the company's office.