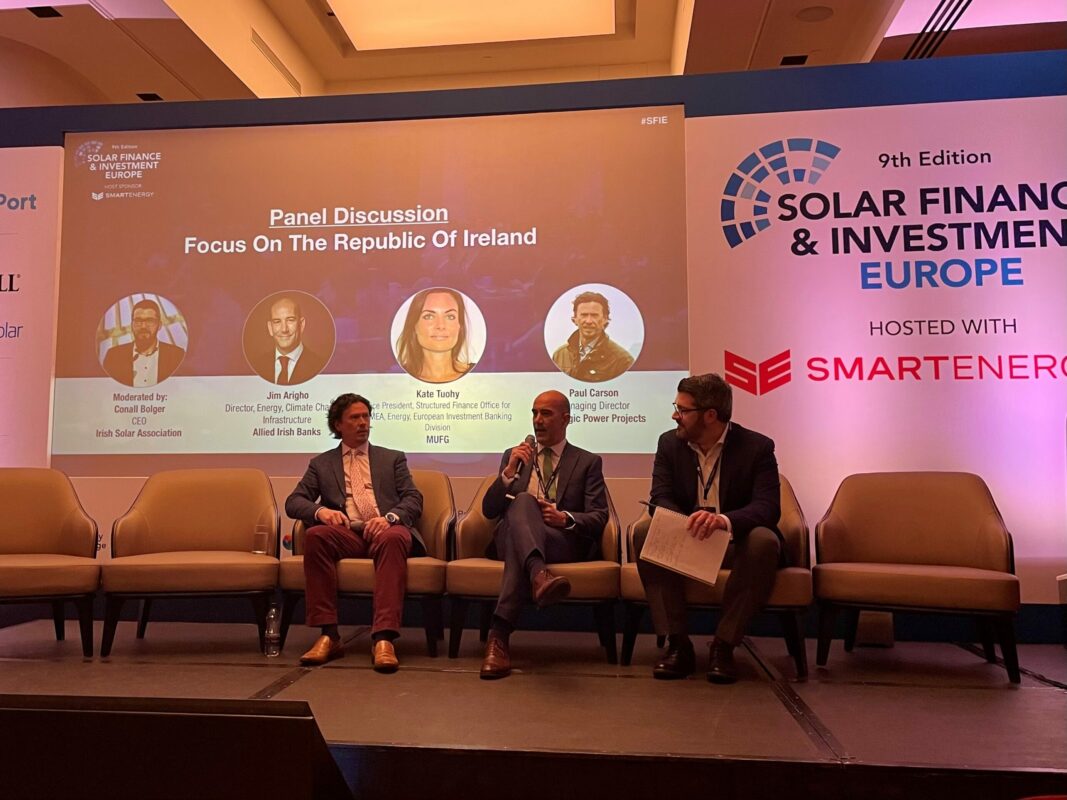 Despite a surge in activity, grid connections remain a key barrier to the development of solar projects in the Republic of Ireland.
The associated costs of grid connection at different scales mean some are targeting much larger scale projects to counterbalance the challenge, according to panelists speaking as part of the Focus on the Republic of Ireland session at the Solar Finance and Investment Europe conference run by Solar Power Portal's parent company Solar Media this week.
"In Ireland the grid is at 38kV, 110kV and then 220kV, and we've just done a study on my own site where taking the site from a 110kV connection to a 220kV connection actually reduces the cost per megawatt from about €48,000 (£40,412) per megawatt down to €25,500 per megawatt by stepping the project up," said Paul Carson managing director of Strategic Power Projects.
"Now, a year ago, if you'd said to me, would you ever develop 220kV? I would have said, 'No chance'. But now, it is feasible. It's possible and Eiregrid will work to a solution."
Strategic Power Projects announced it had submitted a planning application for a 125MW solar PV project in Swordletown, Ireland in February.
While the cost considerations of grid connection may lead to larger scale solar farms emerging faster than seen in other markets, the strong interest in solar for commercial and industrial purposes may fill in the gap in smaller utility projects.
In particular, the booming data centre and pharmaceutical sectors in Ireland have led to an increased interest in corporate power purchase agreements (PPAs) over the past year.
"Hopefully, what we'll see is that with the higher energy prices, corporate PPAs will be an opportunity for at least some of those smaller projects, whether they were in RESS (Renewable Electricity Support Scheme) one or not. I really think that with the outer boundary prices stepping up, not just in the last few weeks, but in the last six months and the trajectory soaring up in that direction, and corporates getting the confidence level, that this makes sense," said Jim Arigho, director of energy, climate change & infrastructure at Allied Irish Banks.
"So these kinds of people, hopefully they have stepped into the breach and support those smaller projects."
With the first utility scale solar projects expected to connect to the network in the next month or two, the solar sector is undoubtedly picking up pace in Ireland. Whether it becomes dominated by mega-projects or whether grid connections ease enabling a wider range of scale however remains to be seen.
But as Conall Bolger CEO of the Irish Solar Association said in his final comments on the panel, the sector has "never been so dynamic", with strong government support for the technology.