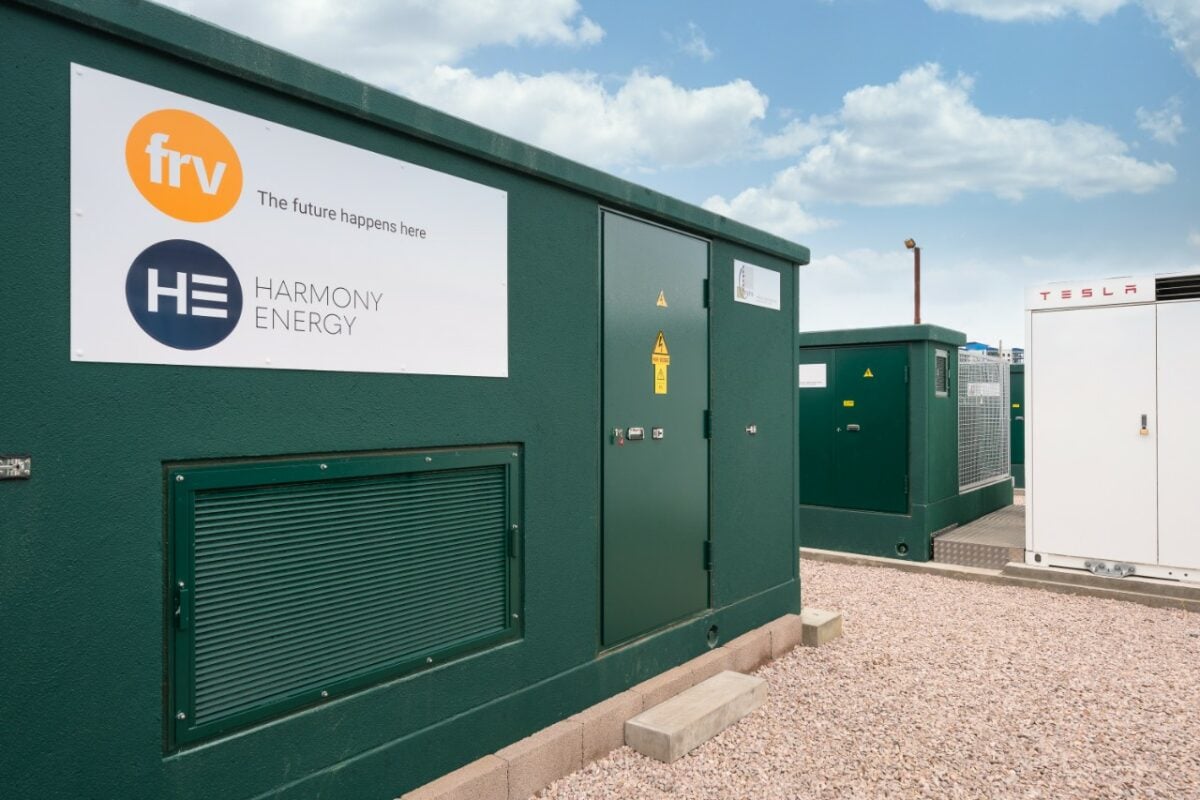 Harmony Energy Income Trust has said its 98MW/196MWh Pillswood battery energy storage system (BESS) was one of "GB's best performing BESS projects" in Q1 of 2023.
The battery asset, which went live ahead of schedule in November 2022 as reported by Solar Power Portal, had been dubbed by Harmony Energy as "Europe's biggest BESS (by MWh)". It is situated in Hull and is also managed by Tesla.
The project uses a Tesla two-hour Megapack system and has the capacity to store as much as 196MWh of electricity in one cycle.
According to Harmony Energy's latest Trading Update, as of 30 April 2022, the project had been one of the best performing over the course of Q1 2023 and had generated £2.3 million in revenue between commencement of operations in late 2022 and 30 April 2023. This is despite the firm witnessing a reduction in net asset value (NAV).
The Trading Update disclosed that its unaudited NAV decreased by 6.7% from 125.50 pence per ordinary share to 117.07pps.
"Whilst this NAV update is somewhat tempered by the more subdued energy price environment currently prevailing, we continue to successfully deliver the build-out of the company's portfolio of assets on a fully funded and contracted basis, in line with expected timetable and within the target range of returns as set out at IPO. We expect strong revenue and capital growth in the coming months as further projects come online," said Norman Crighton, chair of Harmony Energy Income Trust.
Harmony also energised its second BESS project, the 11MW/22MWh Broadditch project located in Kent, which takes its total operational portfolio to 109MW/218MWh.
The Broadditch project was energised in late March 2023 and was commissioned in late April. Due to this late commissioning, it has not generated "significant revenues" in the period to 30 April, Harmony said.
According to the results, two-hour duration batteries in the GB markets continued to "outperform" shorter-duration batteries throughout Q1 2023, however revenues fell from the highs seen in 2022 due to the stabilisation of the energy market.
This reduction is a result of lower gas prices leading to reduced spreads in the wholesale market, alongside the expected reduction in ancillary service pricing as these markets are increasingly saturated.
Harmony has a further six projects currently under construction in the UK. These include the projects dubbed Farnham (20MW/40MWh), Rusholme (35MW/70MWh), Bumpers (99MW/198MWh), Little Raith (49.5MW/99MWh), Wormald Green (33MW/66MWh) and Hawthorn Pit (49.9MW/99.8MWh). The firm also has Rye Common (99MW/198MWh) currently "shovel ready".
Of these projects, Farnham is expected to be energised shortly with operations to commence in June 2023. 134MW/268MWh, across two further projects (Rusholme and Bumpers), is expected to commence operations in Q3 2023 and will take the portfolio to 253MW/506MWh of operational assets.
"We are collaborating with our revenue optimiser on our operational assets to ensure we are participating in the most lucrative markets which extract maximum value from our two-hour duration projects," said Paul Mason, managing director of Harmony Energy Advisers.
"In addition, the Harmony Energy project management team continue to work closely with EPC contractors and distribution network operators (DNOs) to ensure projects remain on track and we look forward to announcing energisation of these projects in due course."