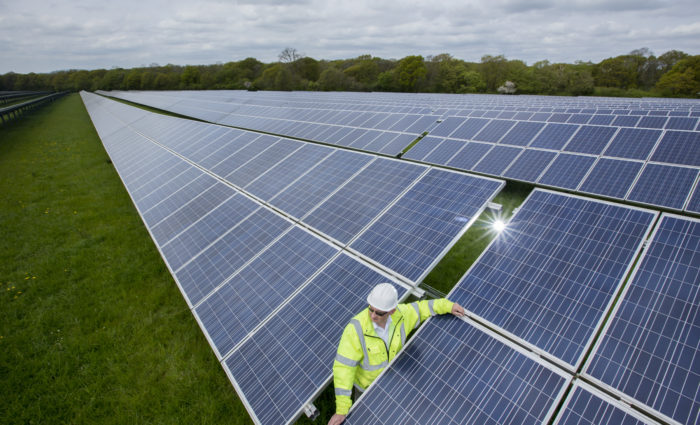 Strong asset operational performance and above budget irradiation in the first half of 2021 resulted in generation from Foresight Solar Fund's UK portfolio being 1% above budget over the last year.
However, across Foresight's full portfolio electricity generated was 5.3% below base case for the full year to 31 December, although high power prices saw total revenues reach £15.3 million – or 16% – above budget.
Consolidated EBITDA was therefore £16.6 million (22%) ahead of budget, Foresight Solar Fund said.
The company said that UK power prices strengthened throughout the year, making reference to the record highs seen in the fourth quarter.
The rise in prices was largely driven by increased energy demand following the relaxation of COVID-19 restrictions alongside increasing natural gas prices as supply tightened while wind production remained low.
The high power prices drove actual cash receipts from projects, Foresight said, with this then generating a positive impact on Net Asset Value (NAV) of 0.4 pence per share. As of 31 December 2021, its unaudited NAV was £660 million, a rise on the £635 million as of 30 September 2021. The affect of the high power prices has been documented for some time, with Foresight's NAV rising in H1 2021 to £596.4 million, a 2.3% increase on its 31 December 2020 results, where NAV sat at £582.2 million.
Foresight said its investment manager is now appraising a pipeline of ready-to-build solar PV assets and battery storage projects, although it did not specify where these assets would be located, with the company also operating in Australia and Spain.
In September 2021, Foresight's head of UK solar Ricardo Pineiro told Solar Power Portal that the company would remain focused on UK acquisitions, although the investment manager "continues to review an attractive pipeline of solar and battery assets in the UK and internationally".
In the UK, its 49.9MW Sandridge battery storage project – Foresight Solar Fund's first battery storage asset, which it owns a 50% stake in, as does JLEN –remains on schedule to become operational in Q4 2022.
As of 31 December 2021, Foresight Solar Fund's total outstanding debt was £512.0 million, comprising long-term debt of £388.6 million and revolving credit facilities of £123.4 million.
The company is currently in the process of refinancing its existing revolving credit facilities into one single facility, with this expected to complete in Q1 2022.