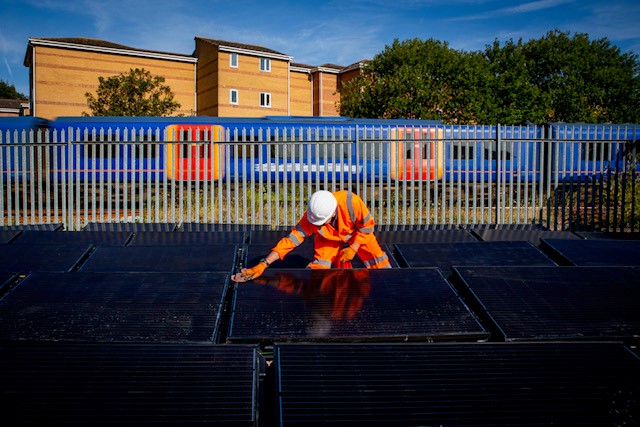 Riding Sunbeams has secured a variety of different funding from both the public purse and private investment this year to help fund its work on developing solar-powered railways.
It has secured £400,000 from the Department for Transport and Innovate UK's First of a Kind 2020 programme, £2.5 million from the South East Local Enterprise Partnerships' share of the government's Getting Building Fund and its first tranche of commercial funding from Thrive Renewables and Friends Provident Foundation.
Having the government finace – which is designated for supporting innovation – combined with private funding "is excellent", Riding Sunbeams' executive director Ollie Pendered told Solar Power Portal, adding that "until we have a route to market with Network Rail, it's really essential to have received government funding".
Riding Sunbeams is currently working on developing the route to market for solar-powered railways, with the latest government funding to support the 3.75MW Cuckmere Community Solar Farm, "a really important flagship project" due to its role in proving this route to market.
The project is to directly power the Eastbourne-London mainline railway and is the world's first MW-scale solar plant to directly power a railway, following on from Riding Sunbeam's demonstrator project in Aldershot.
The community element of Cuckmere – with Riding Sunbeams working with Cuckmere Community Solar on the farm – are "core to our business strategy", according to Pendered, who highlighted how the community benefits and community involvement elements of its projects are "intrinsic" to how Riding Sunbeams works.
"We want to educate local communities to help them decarbonise and reach net zero," he added, with it also being important to Riding Sunbeams to present the opportunity for local communities to invest in the solar projects used to power railways, "so that they can travel on trains that are run with the renewable energy that they've invested in".
There can be challenges when securing government funding to support these ambitions, however. It "takes time and a lot of relationship management to go through grant funding", Pendered said, as well as "combining a lot of our skills within the organisation".
When looking ahead to Riding Sunbeams' next move, Pendered said the goal was to be working with Network Rail "across the whole of the UK" to facilitate renewables being connected to the railways.
The company is already working closely with Network Rail, and has "spent a lot of time" helping to inform its decarbonisation strategy, which includes both the electrification of railways as well as hydrogen trains.