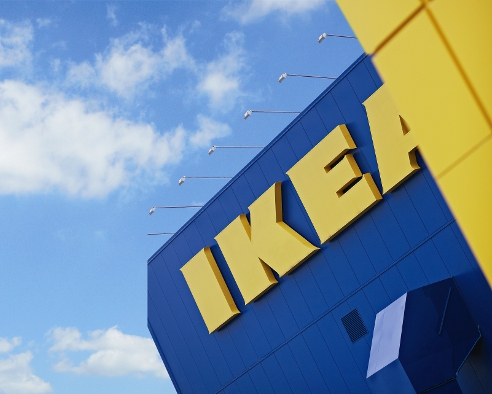 Scandinavian furniture giant IKEA has added home battery storage solutions to its line-up of clean energy products, Solar Power Portal can reveal this morning.
IKEA and current solar PV partner Solarcentury will join forces with battery storage technology provider LG Chem to offer a solar-plus-battery solution for UK consumers.
SPP also understands that German battery manufacturer Sonnen has been lined up to supply batteries as well.
The company expects the batteries to double the amount of self-generated solar power consumers can use, helping to limit the pay back periods for investment to around 12 years.
The addition of battery storage to its product offering comes more than a year after IKEA handed Solarcentury the contract to manage its solar offering, having previously ran an offering alongside thin-film specialists Hanergy.
Hege Saebjornsen, country sustainability manager at IKEA UK & Ireland, said the deal would offer more control to consumers.
"With energy bills already going up 15% this year, there's never been a better time for customers to take back control of their electricity bills and maximise their savings by switching to solar and solar storage," he said.
Solar-plus-storage solutions from IKEA will start at around £6,925, with LG Chem supplying batteries in classifications between 3.3kWh and 6.5kWh.
Consumers that already benefit from rooftop solar PV will also be able to purchase batteries for retrofits, with systems starting at just under £5,000, inclusive of a 15% IKEA family discount.
Susannah Wood, head of residential solar at Solarcentury, meanwhile said that her firm's partnership with IKEA is a "significant step forwards" for the renewables industry.
"We believe IKEA and Solarcentury are bringing the most competitive package to the market yet so more people than ever before can profit financially and environmentally by producing their own energy," she said.
IKEA has long harboured intentions of bolstering its sustainability product range and in December 2015 discussed the potential for a "broader" offering to sit alongside solar products. In January this year the firm went one further when IKEA's Joanna Yarrow said an improved product range would be forthcoming later this year.
However the solar-plus-battery market has grown increasingly competitive of late and IKEA will face stiff competition from the likes of E.On and the Sunplug partnership comprising Lightsource and EDF, both of which have brought products to market in recent months.