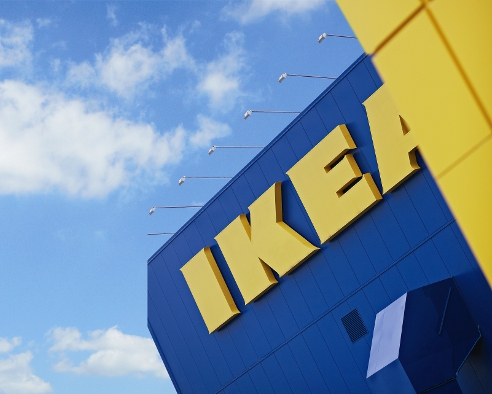 Furniture retailer IKEA is to improve on its solar PV product range later this year after seeing its sales of sustainability products surge in 2016.
In an interview with The Huffington Post Joanna Yarrow, IKEA UK & Ireland's head of sustainability, revealed that the company would be looking to build on its existing range of domestic solar panels with improved products.
Since ditching previous supplier Hanergy in November and handing Solarcentury the contract to manage its solar offering five months later, an online 'solar calculator' originally offered customers panels from either Canadian Solar or JA Solar.
Neither IKEA nor Solarcentury would expand on which new products the two were considering, however the online calculator now asks consumers whether or not they own an electric car and offers Solarcentury's building integrated PV Sunstation modules as an option to include when they complete their quote.
Solarcentury formally launched the Sunstation – manufactured by JA Solar – in May last year to cater for consumers conscious of the aesthetic effect of installing solar on their homes.
The addition of residential EV charging units to IKEA's offering would also fall in line with the company's sustainability drive.
The expanded range comes on the back of IKEA reporting a 13.3% increase in the sales of its range of sustainability products, which includes LED lighting, rechargeable batteries and water meters alongside residential PV.
Sales for FY2016 reached £76.8 million, which IKEA acknowledged was 20% towards its target for 2020.
Solar Power Portal asked IKEA how much of the 13.3% increase was attributable to its solar panel sales, but IKEA had yet to confirm prior to publication.
"It's not only about helping customers save money – the more solar panels we put into the market, the more we'll contribute towards a better world," said Javier Quinones, deputy retail manager for IKEA UK & Ireland.
Susannah Wood, head of residential solar at Solarcentury, added: "Together with IKEA we have designed an offer which makes solar simple for homeowners. We've blended IKEA's retail expertise to arrive at an offer which combines quality with great value for money.
"Solar is now a mature, tried and tested technology that is being deployed the world over, and we want IKEA customers to be able to join this energy revolution with confidence and ease. At Solarcentury we've always aimed to make solar accessible for all, and this new collaboration with IKEA achieves exactly that.
Meanwhile IKEA also revealed plans to expand its own solar portfolio as it looks to generate a greater percentage of its total energy demand.
Solar is currently installed on the rooftops of 10 of its stores and two distribution centres in the UK and Ireland, and IKEA said it plans to install solar on three more outlets in FY17/18.