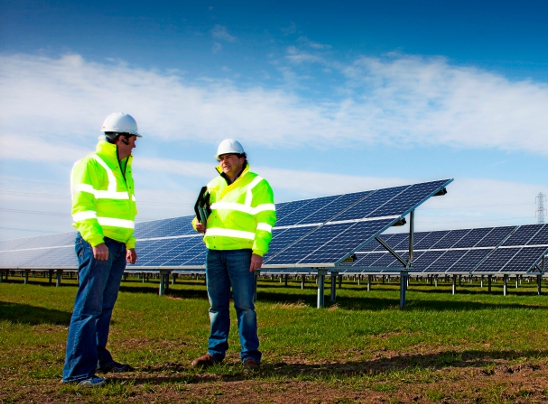 BNRG Renewables has partnered with global French renewable energy developer Neoen to develop 23 solar projects in Ireland in a joint venture expected to invest €220m (£189.5m).
BNRG Neoen Holdings will develop, construct, own and operate the new portfolio of projects in the south and east of the country totalling over 200MW. All 23 of the projects are already in the grid queue and BNRG are preparing to make the first of its planning applications in the coming weeks.
Despite the congested grid queue, which had reached over 5GW by the end of 2016, BNRG director David Maguire believes the applications were made early enough to ensure they are contracted.
"We're fairly confident that the available capacity is there because of the position they are in in the queue," he said.
Construction is expected to begin in 2018 to coincide with the expected implementation of a government support scheme for large scale solar due to be unveiled this quarter.
The solar parks and farms are planned to be completed and connected to the distribution grid network by 2020. The portfolio is expected to generate 60 operation & maintenance (O&M) jobs, with BNRG expecting to seek service providers to ensure the quality of each site.
"Most of the monitoring and the asset management will be done at BNRG and then the actual maintenance and physical operation on site will be awarded to service providers," Maguire said.
"This unique partnership represents a significant investment in renewable energy in Ireland and will be well positioned to deliver first class projects, and real value to the Irish consumer.
"We are delighted to partner with Neoen on our Irish portfolio and look forward to working closely together. There is an excellent strategic alliance between the two groups as both continue to expand their activities in Ireland and internationally," he added.
Neoen is an independent power producer which has generated electricity from a range of renewable sources since 2008. It is active in markets around the world with 1GW of current capacity which it seeks to triple by 2020.
In 2015 the company completed construction of the largest solar PV project operating in Europe, a 300MW plant located near Bordeaux in France.
Romain Desrousseaux, deputy CEO of Neoen, said: "This joint venture is a great match of two experienced European independent power producers working and investing together over the long term to bring about a new competitive solar industry in Ireland with associated job creation and training, while leading to provide clean energy for over 80,000 Irish homes."