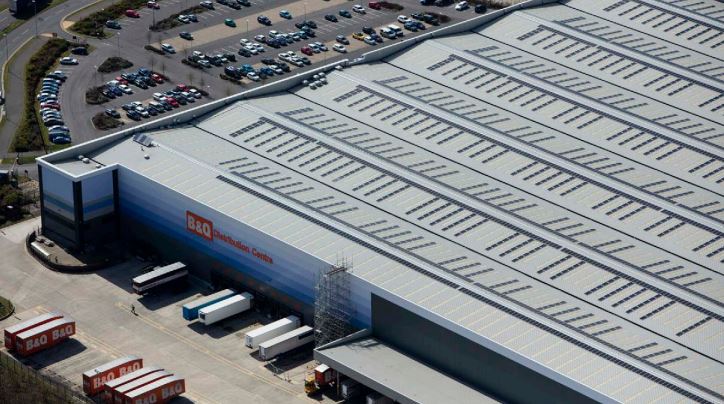 Solar consumption is set to increase at B&Q's Swindon distribution centre under plans by owner Kingfisher to add energy storage to make better use of the electricity generated by the site's rooftop solar array.
Currently, around 35% of generation from the centre's 552 solar panels is exported to the grid. However the addition of a 756kW battery system will mean that 40% of the power generated by the solar panels can be stored and released back to the building to provide power during periods of peak pricing, or support overnight operations.
Kingfisher says the Samsung batteries, to be installed by Solarcentury, will reduce the site's grid power consumption by 31% with some days seeing zero grid energy used on site.
Christian Mazauric, chief executive of B&Q UK & Ireland, said: "The installation of energy storage batteries at the Swindon distribution centre marks an important milestone in our and Kingfisher's commitment to reduce grid energy consumption.
"UK energy prices aren't going down. Battery energy storage will help us to better manage the energy we generate on site and will move us even closer to our sustainability goals."
The plans mark the latest example of Kingfisher's efforts to boost the energy independence of its stores having opened its first net zero energy store last month, powered by a combination of solar with battery storage and air source heat pumps.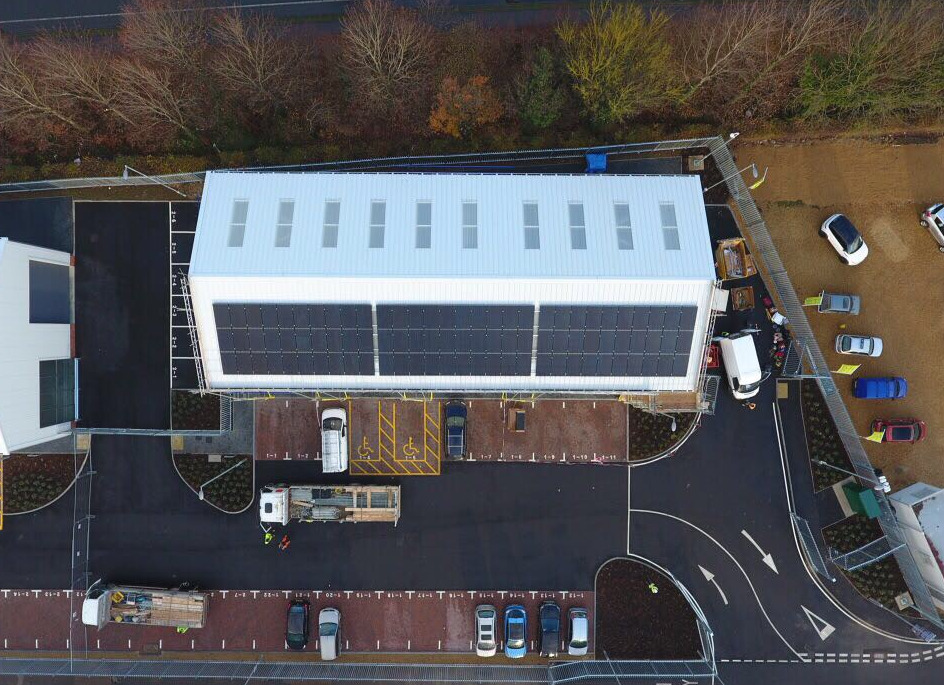 The new system at Swindon will also complement an existing biomass boiler and chipper which will provide renewable heat for the site, demonstrating Kingfisher's strategy of combining a diverse mix of technologies at its sites.
In addition, battery racks will power electric car charging points in the car park with the entire project due to be completed in early September 2018, with Solarcentury taking on management of the ongoing maintenance and monitoring systems.
The installations form part of both Kingfisher's and, by extension, B&Q's sustainability plans, with the latter recording a 41% reduction in carbon and 47% in electricity demand on route to a target absolute carbon footprint reduction of 90%.
Kingfisher, which has a goal in place to become a net positive business by 2050, says the new systems form a key part of its aim to reduce grid energy consumption across its UK property portfolio, while also promoting clean technologies to its customers.
Jeremy Parsons, head of energy and renewables at Kingfisher, said: "This investment at our Swindon distribution centre reflects our wider approach to energy strategy to help both our business and our customers improve energy efficiency.
Indeed, many of the energy saving initiatives we have undertaken in our stores and distribution centres are also being considered by our customers. For example, we are seeing more customers installing solar PVs and moving to battery storage to harness that power for their homes".