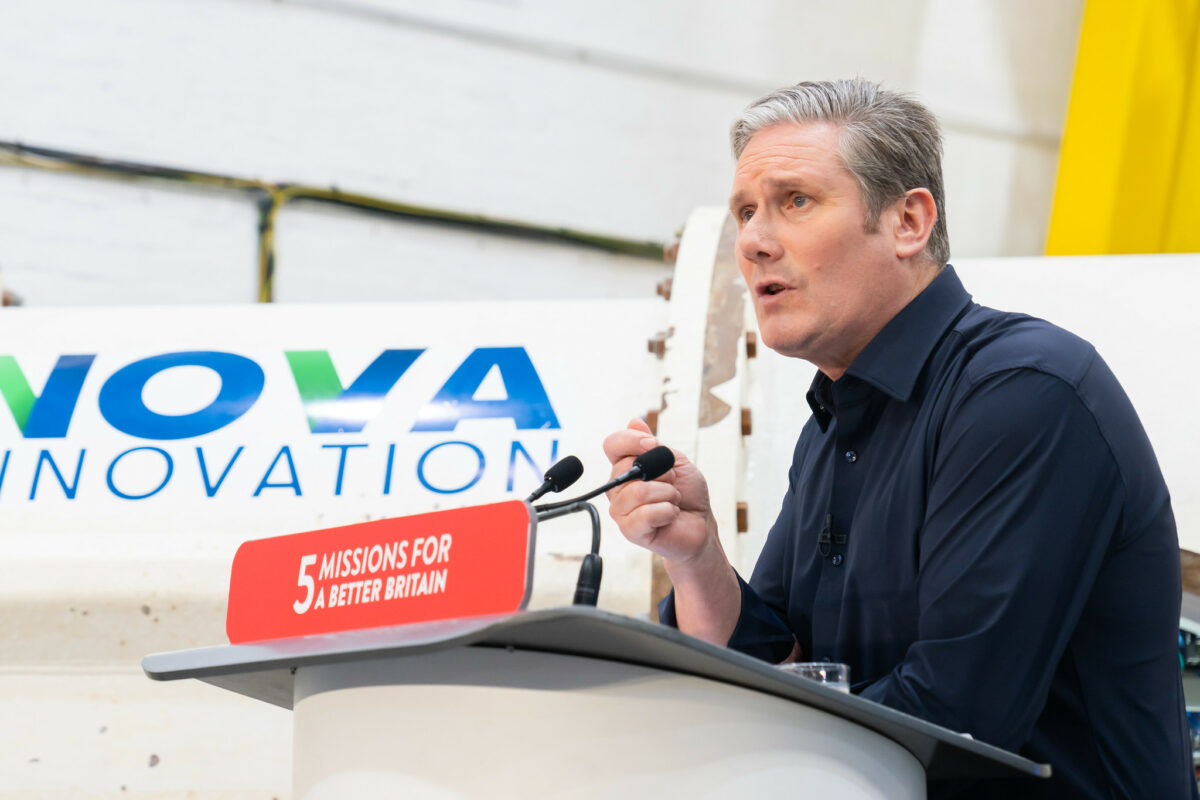 Sir Keir Starmer, leader of the Labour Party, unveiled plans to boost clean energy in the UK with solar a central pillar in achieving this.
In particular, Solar Energy UK welcomed plans to reform the Contracts for Difference (CfD) mechanism in what the trade association dubbed as "ambitious plans". This could provide a substantial boost to the UK solar sector.
Announcing Labour's plans, Starmer said that "We've got to roll up our sleeves and start building things… the planning system, the skills shortages, the investor confidence, the grid."
"We're going to throw everything at this: planning reform, procurement, long-term finance, R&D, a strategic plan for skills and supply chains," he added.
The plan includes three concrete steps:
To create a new National Wealth Fund
To reform the CfD scheme
To create a "new home-grown energy company… like Ørsted in Denmark and Vattenfall in Sweden"
Starmer said the new energy company, called Great British Energy, would be based in Scotland. The proposals are still somewhat short on detail, but the general outline of Labour's manifesto pledges for a likely general election in 2024 are coming into focus.
Starmer also committed Labour to "back carbon capture, let's invest in hydrogen, nuclear, tidal energy, double onshore wind, treble solar power, quadruple offshore wind and insulate 19 million homes."
A number of organisations welcomed the proposals. Solar Energy UK chief executive, Chris Hewett, said: "Labour has wisely staked its economic case on clean and renewable energy, of which solar energy is an increasingly critical part. Pushing to treble capacity by the end of the next parliament would set an even faster pace than that implied by the Conservatives' Energy Security Strategy, which seeks to reach 70GW by 2035."
Peter Chalkley, director of the Energy and Climate Intelligence Unit, said that there was now a "clear political consensus" to lift the ban on onshore wind by both Labour and the Conservatives, but "the question is how quickly this happens given bills are still high and the delay means less cheap onshore wind bringing down household costs."
Chalkley said that while the US Inflation Reduction Act was already spurring work and investment in the US, "the UK's response won't be ready until the autumn."
RenewableUK chief executive, Dan McGrail, said: "Overall, it's clear that delivering Labour's renewable energy ambitions will require considerable reforms to planning, grid development, regulatory frameworks and skills policy. We need to address these issues as a matter of urgency, so welcome clarity on them. We hope Labour will continue to engage with industry going forward, establishing a partnership approach to developing solutions which will maximise the economic benefits of the energy transition for communities throughout the UK."
Sam Richards, founder and campaign director of campaign group Britain Remade, said: "It's great news that Keir Starmer has put reforming our broken planning system at the heart of Labour's plans to deliver the clean energy infrastructure that can cut our energy bills and create jobs across the country."
Richards welcomed Labour's adoption of a number of recommendations proposed by Britain Remade in a recent report, "from ending the senseless ban on new onshore wind farms to speeding up the time it takes to get offshore wind farms up and running".
Richards added that "the Labour leader's speech was a huge step in the right direction, but he must remain committed to getting spades in the ground straight away if he becomes the next occupant of Downing Street."
However, Labour's commitments on climate change have been criticised recently as they seemed to walk back a number of previous pledges. Green Party of England and Wales deputy leader Zack Polanski criticised Labour for agreeing to honour any new oil and gas licenses awarded before the next election.
This article first appeared on Solar Power Portal's sister publication Current±. Additional reporting by George Heynes.