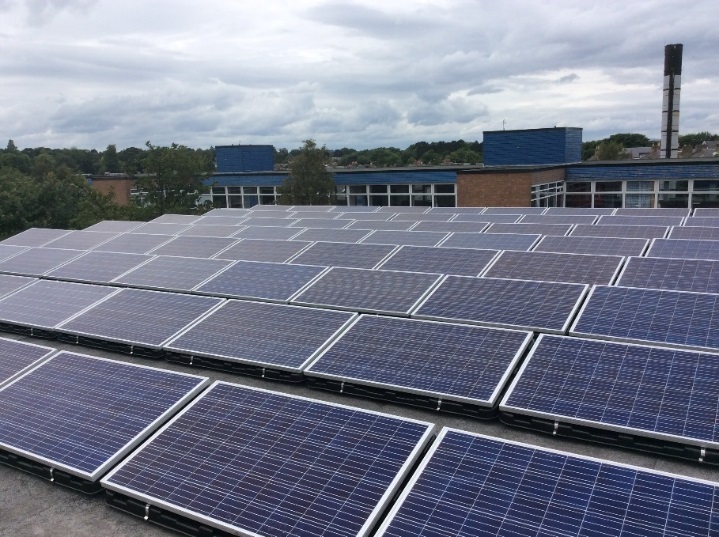 Edinburgh is celebrating the completion of what is thought to be the largest community-owned rooftop solar framework in the UK after 1.4MW of solar was deployed across the city's public buildings.
The project has been entirely funded by a community offer from The Edinburgh Community Solar Co-operative (ECSC), which raised just under £1.5 million from local residents in six weeks.
Working alongside Edinburgh City Council, Energy 4All and contractor Emtec Energy, the funds have been used to install solar on 24 buildings, including a leisure centre, community centre and various schools.
According to Chris Clark, director at Emtec Energy, the systems range from 150kW to 15kw and required significant preparation to complete within the project's deadline.
"In all the frameworks we have delivered, this has by far been the most challenging but also the most rewarding. On-site works of ten weeks can only ever be accomplished through months of detailed planning, and the effort and hard work by all stakeholders."
"Community schemes are notoriously difficult to plan and deliver. Being involved in the largest community owned solar scheme in Scotland and delivering this on-budget and ahead of schedule is something we are very proud of," he said.
The majority of the electricity generated by the installations – expected to reach over 1.1GWh a year – is to be used on-site at each location, allowing the city council to reduce its carbon footprint and contribute towards the council's target of reducing 42% of emissions by 2020.
Any surplus energy will be exported to National Grid and profits made by the project will be reinvested locally through a newly-created Community Benefit Fund.
The completion of the community framework was celebrated on 7 October at Currie High School – the last building to be energised – which welcomed members of the solar co-op, councillors, pupils and community representatives.
Councillor Adam McVey, vice convener of transport and environment, said: "I am delighted to see this project come into action, providing a wealth of environmental and economic benefits in the long term.
"As a Council we are committed to reducing our carbon footprint and it is through developments such as this we are able to make a real change. Co-operatives are also a great way to involve the community, in this instance to increase the city's renewable energy together."
Dr Richard Dixon, chair of the ECSC, added: "This is the biggest scheme of its type in the UK and we would be delighted to see this kind of project spreading to other Scottish cities. Many congratulations to the team, who have worked really hard over the summer to meet the deadlines to get all 24 solar installation installed and generating electricity."
Community energy projects have emerged as a key area of activity for UK solar, particularly for local authorities. Swindon Borough Council is preparing to launch its second solar bond following the success of its first local authority led investment offer earlier this year.
Havering London Borough Council has also put forward plans to build its own solar farms which will initially use council reserves to fund their construction but is likely to meet a portion of the capital cost with community funding.
Writing for Solar Power Portal in his latest blog, Stephen Cirell, an independent consultant specialising in local authority renewable energy projects, said: "The public sector continues to surprise by developing yet more ways to enter into this market and share in the success of solar PV."
The role of local authorities in helping solar to recover from a year of subsidy cuts and reduced activity has also been noted by Leonie Greene, head of external affairs at the Solar Trade Association.
Speaking to the London Assembly Environment Committee earlier this month, Greene said: "The national framework now for solar is so difficult so the role of regions and local government has become extremely important to the stability and survival in some ways of this sector."