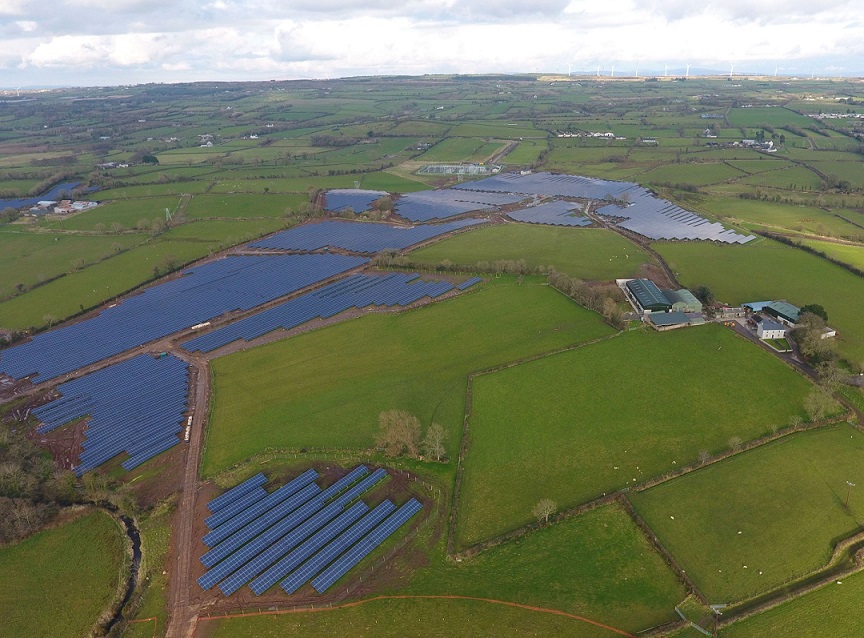 The largest solar farm to be built in Northern Ireland has been successfully connected by Baywa r.e. and Elgin Energy as part of its tranche of projects completed prior to the 31 March deadline for the closure of the Renewables Obligation.
The 46MWp Bann Road development was originated and developed by Elgin Energy which partnered with Baywa r.e. to deliver its construction and ongoing operation. Building began in December and the site was connected last month.
Ronan Kilduff, managing director of Elgin, said the successful connection of the farm marked a "red-letter day" for Irish solar both in the north and the Republic.
"We are very excited that the industry is beginning to grow and develop on this side of the Irish Sea playing its part in addressing the very real challenge of climate change," he said.
The project is signed to a 15-year power purchase agreement with SSE Airtricity, Northern Ireland's second largest energy utility and the largest provider of renewable energy, while Centrica is purchasing the ROC 1.4 renewable energy certificates.
Benedikt Ortmann, managing director of BayWa r.e. Solar Projects said: "We are delighted to have acquired this landmark project from Elgin Energy. While we construct and operate solar parks globally, Bann Road marks our first solar project in Northern Ireland and is a perfect fit for BayWa r.e. as we continue to expand our business across Europe.
"The Irish market is in an early stage of development and we expect to see a lot more growth here as Northern Ireland seeks to meet an increasing amount of its energy needs from renewable sources."
Bann Road was one of seven solar parks completed between Elgin Energy and Baywa r.e. in preparation for the closure of the RO, with the others made up of 5MWp sites spread across the UK.
In total, the companies successfully connected projects with a total capacity of 76MWp, which Baywa will look to sell over the course of 2017.
Matthias Taft, board member of BayWa AG, responsible for the energy business, added: "After realising 130MWp last year, we have continued our success this year despite the declining feed-in tariff.
"Moving forward, we are increasingly focusing on the O&M sector where we already service plants with an output of over 620MW in the UK. The recent acquisition of Green Hedge Operation Services further strengthens our service offering and puts us in prime position as the UK market consolidates and investors search for experienced O&M providers who can optimise their assets."