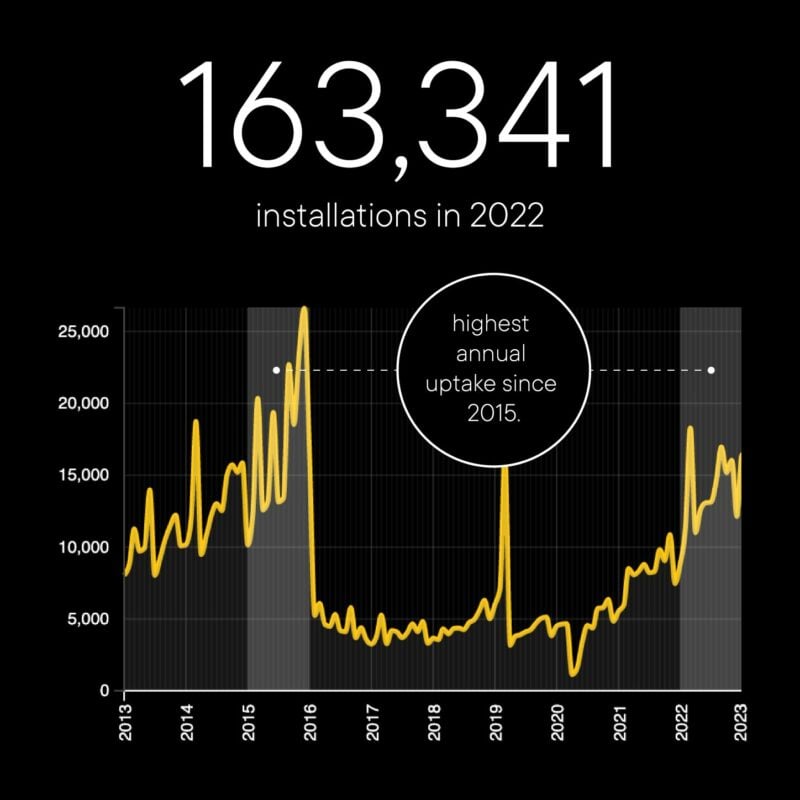 The Microgeneration Certification Scheme (MCS), has released its latest data showing that 130,596 solar photovoltaic (PV) systems were installed in UK homes last year – a 114% rise from 2021.
This figure made up the majority of the total 163,341 MCS certified installations, marking the highest annual deployment since 2015, which saw 200,000 installations.
The standards organisation for domestic renewable energy and heating technology also reported the highest annual increase of certified contractors in 2022 at 780 – more than double the net increase from 2020 to 2021.
67% of these contractors are certified for electricity generating technologies, demonstrating the growing demand for domestic solar in the UK.
Battery storage had a similarly promising year. Launching its battery installation standard in November 2021, MCS reported that 50 certified contractors and 269 installation were reported in 2022.
"We're pleased to report our second strongest year since 2015, illustrating the sector's upward trajectory. We had an incredibly busy 2022 and the data confirms the progress we've made. The future of small-scale renewable installations is becoming increasingly important, and we continue to play a crucial role in the decarbonisation of the UK's homes," said Ian Rippin, CEO at MCS.
"The growth we've seen in domestic renewable electricity systems over the past year may also give some insight into the growing consumer reliance on home-grown energy in the UK during the cost-of-living crisis. As electricity prices skyrocket, more people are turning to renewable solutions to generate their own power at home."
MCS recently issued a last call for London businesses wishing to claim a £1,000 grant towards training solar installers through its Solar Skills Project London. The project already increased the number of solar installation companies in London by 50% in its second phase.
Solar Power Portals' publisher will host the second UK Solar Summit in London in June this year. Once again, the event will bring together all the leading players in the UK solar sector for two days of networking, presentations, and discussions. Find out more and book your ticket here.