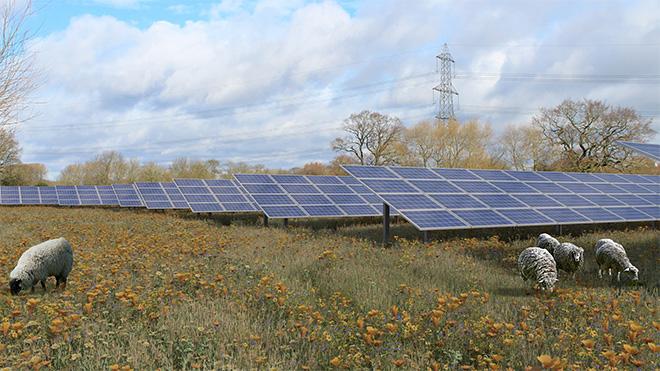 Leicestershire County Council has set its sights on a new solar farm and carbon neutral site, in a new £14 million green project.
The site would be based on Barrows Road on the northern outskirts of Quorn, containing 15 industrial units as well as the 10MW solar farm.
This would help generate almost 10,000MWh of electricity a year, according to the council. The solar farm would cover 13.6 hectare, while the remainder of the 27.5 hectare solar farm site would be used to preserve and enhance biodiversity.
Additionally, the units on the site will have solar panels on their rooftops, and the site will have electric vehicle charging along with other carbon neutral technologies such as LED lighting and rainwater harvesting.
Councillor Byron Rhodes, cabinet member for finance and resources at Leicestershire County Council highlighted that "tackling climate change is one of our top priorities".
"We take our commitments to reduce carbon very seriously and, if approved, this solar farm would produce clean, green energy, while building new units would offer local businesses the chance to get their foot on the ladder or expand.
"Investing in property is a priority for the council as it means we can also generate income to plough back into services, helping to meet ever-increasing demands."
The initial phase of the project is expected to cost £14 million, which has been made up of one-off pots of money that includes income from property sales and investment. When completed the site is expected to generate more than £830,000 a year in returns.
Leicestershire is far from the only council turning to solar to tackle climate change. In April, Cambridgeshire County Council unveiled plans for a "pioneering" solar farm that would sit on old landfill sites, repurposing them.
Cambridgeshire County Council has made a number of solar announcements this year including a 29MW ground-mounted solar farm and a 2.5MW solar carport with battery storage located at Babraham Park and Ride in Great Shelford Parish.
In February, Newport City Council announced a plan to roll-out 2MW rooftop solar PV across buildings in the city in a partnership with Egni Co-op and installer Joju Solar.
In London, Wandsworth Council has announced its plan to transition to 100% zero carbon energy and the City of London Corporation put out a notice of procurement for up to 55GWh of renewable energy per year.
Leicestershire County Council has submitted the solar farm plan to the council's planning committee and awaits their decision.