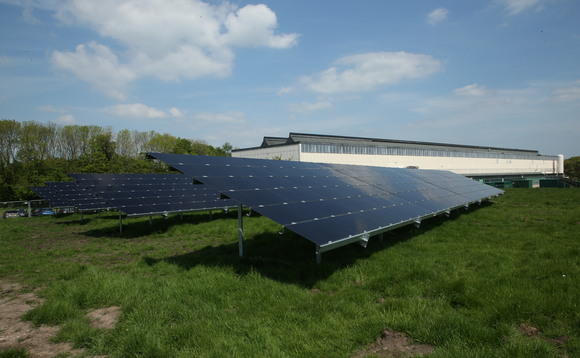 Lightsource BP has connected another subsidy-free, private wire solar farm, this time a 2.3MWp install in Lancashire.
The site, fully funded by Lightsource BP, is connected to the private power network of glass manufacturer NSG Group's European technical centre.
The project is expected to provide around 30% of the site's annual power demand, with NSG procuring the array's output under a 25-year power purchase agreement (PPA).
Lightsource BP said the PPA provides a fixed, index-linked rate for the electricity, effectively hedging against price volatility.
Nick Boyle, chief executive at Lightsource BP, said that the project was testament to the "new normal" in UK solar.
"Initiatives now must be sustainable without taxpayer support and make financial sense to all stakeholders involved… We firmly believe that the future of energy will be clean and sustainable and are proud to help businesses move towards those goals," he said.
The solar farm uses modules provided by First Solar, which happens to be amongst NSG Group's largest customers. Research and development for the glass used within First Solar modules was conducted at the technical centre site itself.
Lightsource BP has established itself at the forefront of subsidy-free developments in the UK, having amassed a 300MW pipeline of large-scale projects to develop over the coming years.
This includes a significant deal with Budweiser brewer AB InBev, billed as the UK's 'biggest ever' subsidy-free deal. Just last week the firm also announced that it is planning to develop a 49.99MW project in Nottingham.