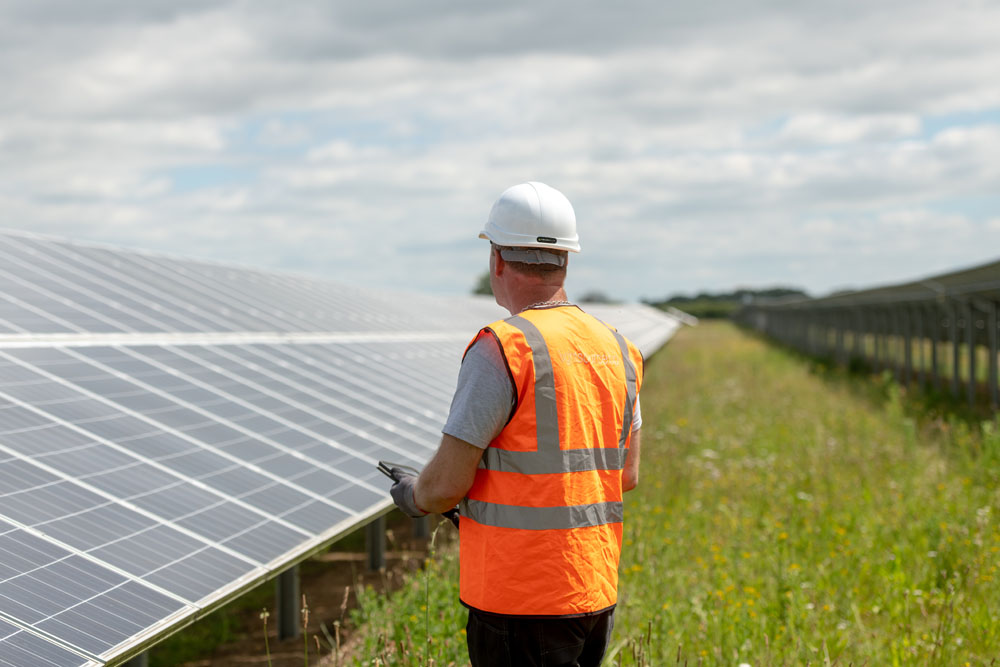 As part of the government's £1 billion Industrial Decarbonisation Strategy announced last week, a number of industrial clusters around the UK are receiving a chunk of money to target technologies such as green hydrogen.
One such cluster is in South Wales, which was awarded £19,999,997 of the £171 million available through the UK Research and Innovation Industrial Strategy Challenge Fund. The funding will allow Lightsource bp Renewable Energy Investments to develop solar powered green hydrogen for direct use in the steel manufacturing on site.
For Lightsource bp, the South Wales Industrial Cluster (SWIC) will act as a feasibility study, allowing the company to develop both the renewable generation and the electrolyser itself. This will provide it with "the foundation to come to the table for global green hydrogen opportunities and show evidence of our ability and our experience in that space," Chris Buckland, technical lead at Lightsource BP told Solar Power Portal.
SWIC: getting the key components together
Lightsource bp is looking at 20-50MW scale ground-mount solar sites for SWIC, with a lithium-ion battery storage element to help manage generation intermittency.
"We are fortunate in that we already have quite a large number of solar plants in South Wales," added Buckland. "So although we will be looking at the overall concept, and potentially finding sites that could be suitable for solar, we already have a business case for solar in South Wales anyway, on a PPA basis. And you could understand the potential opportunity there to take those existing solar sites and to divert that PPA across into the hydrogen application."
There is also the opportunity to identify and develop brownfield solar sites together with SWIC, with the exact locations to be established during Phase Two of the project. This will also include looking at the potential for collocating – or co-connection – of solar and wind generation in South Wales, with Buckland continuing that "It's pretty breezy down in Pembroke though, so it's going to be quite a nice match, we believe, between the solar and the wind."
Operational kick-off for SWIC is April, at which point Lightsource bp will be able to begin scoping for sites for both the solar and green hydrogen hub elements, along with evaluating electrolyser technology and options for other aspects of the project, estimating capital and operating costs, and evaluating commercial aspects, safety and consenting.
While the solar will be located throughout the nearby area, the electrolyser itself will most likely be based at the industrial cluster on a brownfield site. This will likely include early engagement with RWE, to discuss potential off-taking the current generation equipment they have at the site which runs on methane.
The green hydrogen space
The electrolyser is a key interest for Lightsource bp in the project, and marks a key step for the company's role in the green hydrogen space.
Buckland explained that there are electrolyser technologies that haven't been looked at so far, which could potentially be more flexible from the point of view of the energy input making them better suited for renewables. These have been missed as green hydrogen projects are rarely driven by solar and wind generators themselves, but by the oil and gas industry.
"So we do see an opportunity," he continued, "and we have been made aware of some technologies in electrolysers that have been skipped. We're looking forward to investigating some of those technologies, which may not be as cheap in terms of cost of installation, but will give us a lot of opportunity for the variability of renewables to keep these electrolysers running, rather than either having to have very large batteries to buffer off or to have very strong grid for when it's not windy and sunny. And potentially to reduce the other alternative, which is to recycle hydrogen during the periods of which there's no wind, no solar, which is the more conventional approach at the moment."
Phase two of the SWIC project is then due to run for 15 months, bringing it up to a full feasibility design and potential RFP for a front FEED (front end engineering design). It includes work packages for Lightsource bp – which is managing the renewable and green hydrogen generation – and the project lead Costain, which will manage hydrogen transport and end use.
Getting a seat at the green hydrogen table
SWIC is particularly significant for Lightsource as it allows it to develop its role in the green hydrogen space, exploring the opportunity of the technology together with South Wales.
"Now, clearly the cost of hydrogen from that system is going to be above the $2 limit, which seems to be at today's threshold," said Buckland. "So from the Lightsource bp's point of view and SWIC, realistically what we're looking at here is the technology interactions, rather than the commercial case."
"I have to say it's not a huge amount of money from the point of view of the government that we get out of this. But it's very helpful for the innovation team within Lightsource bp to get this 50% funding. Because based on that means that we can go and explore in areas that we would typically not be looking at."
Buckland added that they appreciated the opportunity to work with local players and the government, getting on stream and engaged with what will "hopefully will be a significant hydrogen economy going forward where we can play our solar part."
Beyond the project, Lightsource is also working on a solar powered green hydrogen project in Australia, at least two in Europe and hopes to target the US going forwards.