The pipeline of new large-scale solar sites in the UK is now greater than 9GW, with more than 600MW added during June 2020 alone. This strong growth in the UK sector is now coming from new developers in the sector, many of whom are aligned with finance from companies that had previously got involved only when sites had been completed and accredited.
The new findings come from the July 2020 release of the UK Large-Scale Solar Farms: The Post-Subsidy Prospect List report, which now lists almost 400 sites across the UK, adding up to more than 9GW of potential new solar capacity.
The level of new site identification in 2020 has been huge, with all sites setting goals on being viable without any government subsidies. To put this into context, during the first six months of 2020, new sites totalling 2.6GW have been added to the pipeline: during the whole of 2019, the total capacity added up to 2.9GW, itself a figure that was thought to be extremely ambitious.
In fact, during the past three months of UK 'lockdown', more than 1.6GW of new sites have been added, the vast majority at a very early stage, mostly at local authority screening and scoping.
Site sizes are increasingly centred in the 40-50MWdc range, with 49.9MW by far the most common today.
The graph below shows the monthly new capacity additions from the start of 2019.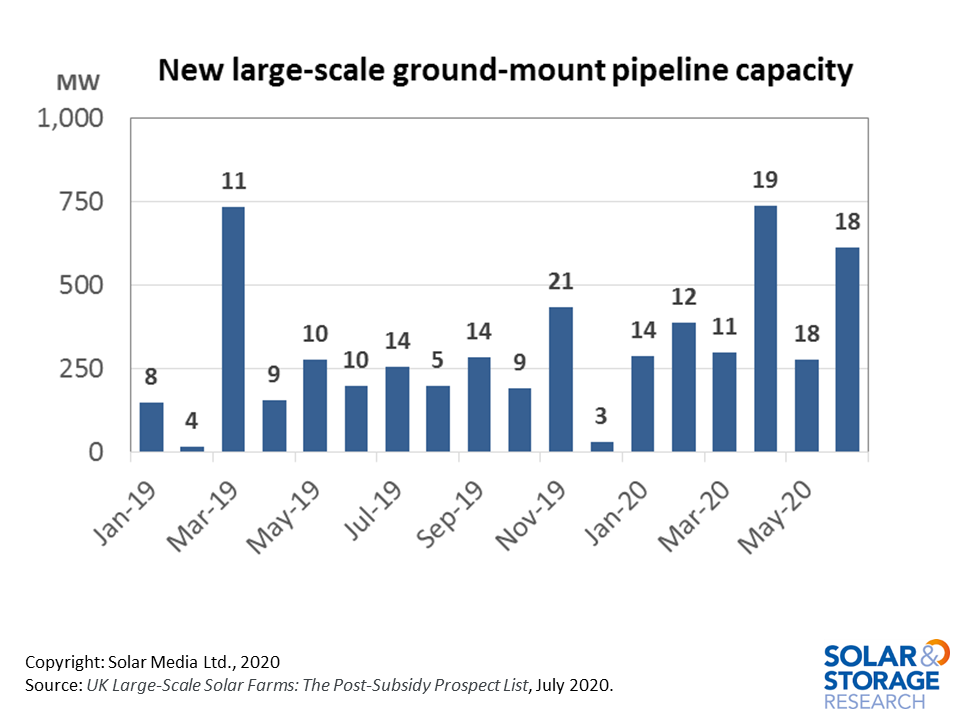 While the initial post-subsidy phase of new site identification was limited to just a few greenfield developers that had been key players in the UK market during the FiT/ROC years, since the start of 2020, new entities have emerged, setting sights on 500MW-to-1GW of new development capacity, often bankrolled by final owners and/or off-takers of electricity when completed.
It is the combination of these two development 'types' that has driven new monthly site additions by about a factor of two in 2020, when compared to activity throughout the whole of 2019.
With no immediate rush to move to construction right now, and the pipeline still dominated by pre-application screening, it would appear that pre-build shovel-ready portfolios are simply the order of the day. Should this remain the modus operandi during the second half of 2020, there is every chance of us moving into 2021 with a pipeline around the 12GW mark. Potentially 40-50% of this could by then be in the form of full-application submissions, with a large chunk going through conditional discharge ahead of ground-breaking.
If these timelines turn out to be accurate, then we would expect to see pre-build site ownership flipping taking place in the final quarter of the year and during the first half of 2021. Top of the list to re-enter the arena at this point would certainly be the Chinese module suppliers or their corporate parent entities. There remains a hunger for Chinese companies, and some others like Hanwha Solutions, to buy shovel-ready projects, build-out and flip to long-term owners shortly after.
To help explain what is driving the 9GW of new solar farm pipeline capacity in the UK, I will be delivering a free webinar on Solar Power Portal on Tuesday 7 July at 3pm. This webinar will also include my colleague Lauren Cook and we will summarise and discuss solar and energy storage opportunities across both the UK and Ireland. To register to participate in this webinar, please register using the link here.