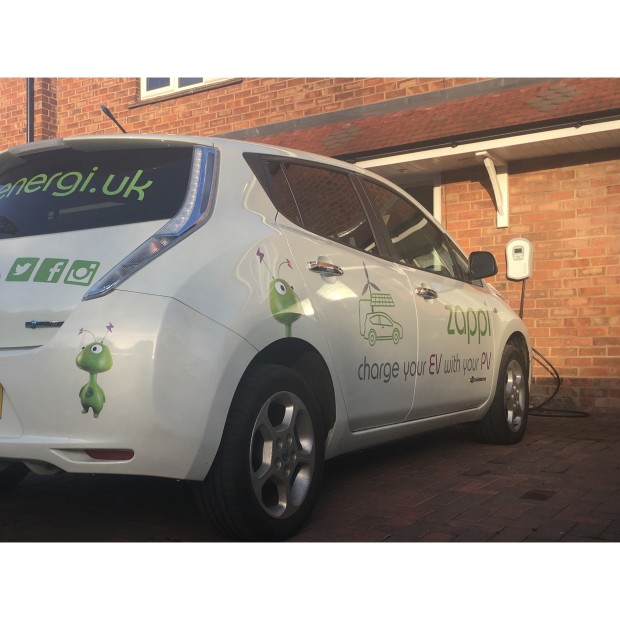 Crowdfunding is underway to fund the production of a new smart electric vehicle charger that will be able to utilise surplus energy from a solar installation to boost self-consumption.
Zappi, developed by MyEnergi, can be used like a standard EV charger under one of its three charge modes but will also be offered with built-in intelligent functionality for homes with micro-generation.
The system's ECO mode will offer continuous power to the vehicle from a home's solar panels but adjusted in response to generation and consumption elsewhere. This is supplemented with power from the grid until the car is fully charged.
It can also recognise when economy tariffs are available and automatically manage vehicle charging accordingly, meaning the EV will always be charged at the lowest possible cost.
The ECO+ mode uses the same functionality but pauses the charge if there is too much imported power, continuing only if surplus energy from the home becomes available.
MyEnergi has already lined up three manufacturers to back the product and at the time of writing had raised almost £6,000, roughly 15% of its flexible target of £40,000.
Zappi is being brought forward by Lee Sutton, director of MyEnergi, who had previously worked on a similar product at 4eco Technologies, the company set up to develop new products following the insolvency of 4eco.
While the 4eco product had the same functionality as the zappi, Sutton explained that there was no product name or real specification, with most of the work being research and proof of concept experiments.
The company said the same engineers used by 4eco Technologies are now working with MyEnergi on zappi, which also includes provision for the EV chargers to provide demand side response (DSR) to the grid should such services be viable.
While this is dependent on the company reaching scale with deployment of zappi units, Sutton explained that the company is intending to pursue DSR as a potential revenue stream for MyEnergi and homeowners using the system.
"We have built-in the necessary hardware so we can start to look at how our products can contribute to balancing services later down the line, when we have a reasonable amount of installed capacity. We intend to sign-up to a bridging contract next year once we have found a partner that can help us with the deployment," he said.
The concept of an EV charging unit utilising surplus electricity from a microgenerator is one currently being explored by other manufacturers too, perhaps most notably BMW which late last year announced that its equivalent product – dubbed the 'Digital Charging Service' – is to be launched in various test markets, of which the UK is expected to be one, throughout 2017.