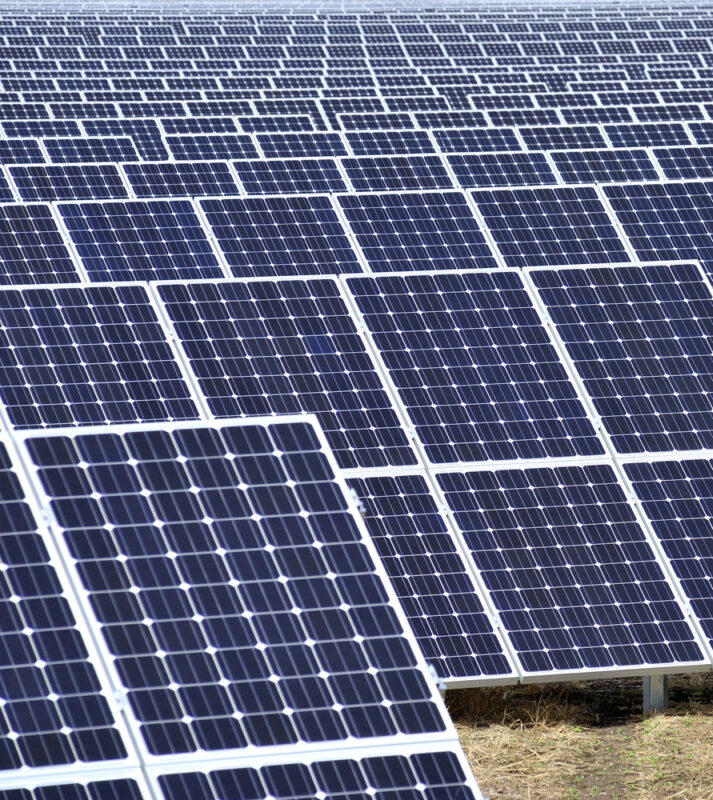 NextEnergy Solar Fund has said it is preparing to capitalise on the "next stage of growth" in UK solar having enjoyed a "particularly pleasing" year.
The asset holder today reported its financial results for the year ended 31 March 2017, placing profit before tax at £49.8 million. It witnessed an increase in net asset value (NAV) of nearly 7% from 98.5p per share to 104.9p which it attributed to better-than-expected operational performance.
NESF's 48 operational UK solar assets performed 3.3% above expectation despite lower than forecasted irradiance throughout the financial year, a factor which it said was "particularly pleasing".
However NESF also cast its eyes towards the future of the UK solar market within its results disclosure, confirming several areas of interest as it moves forward.
The firm has already announced plans to scale up its position in the UK solar market through additional fundraising as it looks to acquire up to 600MW of UK solar in the coming months.
NESF has expanded on this by stating that it expects anywhere from 1.5GW to 2.5GW – and as much as 4.2GW – of solar to be disposed of over the course of the next year. This will be pitched to what the asset manager described as an increasingly competitive secondary market, particularly when it came to larger portfolios of assets sold at once.
The group said its investment manager had so far steered clear of auction-style approaches to sales and has instead been happy to take assets on a case-by-case basis, bolting on smaller farms wherever the opportunity has arisen.
Meanwhile the firm has looked to de-risk a proportion of its revenue base by entering into fixed-term contracts for the power its assets produce. These power purchase agreements have durations up to five years and now more than two-thirds (68%) of NESF's revenue stack is linked to such arrangements.
Nevertheless, NESF did note that its power price forecasts have increased for the first time since its IPO three years ago, indicating that there could be brighter times on the horizon for generators.
In discussing new opportunities for the UK market, the potential for subsidy-free developments was again mentioned. Earlier this month NESF revealed it had purchased project development rights for three solar farms that would be developed without subsidies, indicating its intention to construct these projects over the next 12-18 months.
Today NESF shed a little more light on these developments, indicating how subsidy-free solar was becoming more of a reality. "[The] all-in cost of solar systems fell by more than 50% (in £/MW terms) and this is expected to decline even further. As a result, solar PV is about to be cost competitive with traditional energy sources in the UK even in the absence of subsidies," the firm said.
NextEnergy also said it may revisit its existing portfolio to see if any sites could receive additional, retrofitted capacity should existing connection agreements allow it. Whilst these developments would not receive any subsidy-backed payments, the absence of land costs and grid connection charges may make the added capacity financially feasible.
Lastly, the prospect of installing new technologies – namely battery storage – on existing solar projects was also discussed.
Asset holders have remained largely tight-lipped on their storage ambitions to date, insisting that retrofits remained some time away from being financially feasible. Foresight made its first utility-scale storage acquisition last week, however that project is backed by both EFR and capacity market revenue stacks and that fund is one of many keeping a watching brief for now.
NESF falls into this category too, but teased that battery storage could be installed in the next 12 to 18 months, "if not sooner", as it looked to source additional revenue and maximise the potential of its sites.
Kevin Lyon, chairman at NESF, said he was pleased to report another year of progress.
"This is a strong set of results. Over the last three years we have met our target returns to investors, have achieved our key growth objectives and have continued to demonstrate a sustainable outperformance across our portfolio.
"In the dynamic solar industry, NESF is well placed to take advantage of the multiple growth opportunities available," he said.